Knox, Henry (1750-1806) to Lucy Knox
High-resolution images are available to schools and libraries via subscription to American History, 1493-1943. Check to see if your school or library already has a subscription. Or click here for more information. You may also order a pdf of the image from us here.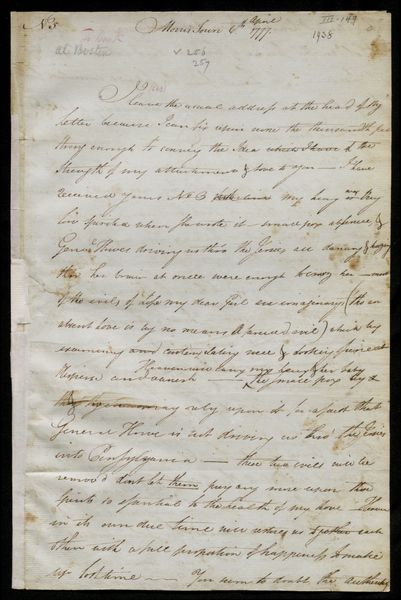 A high-resolution version of this object is available for registered users. LOG IN
Gilder Lehrman Collection #: GLC02437.00566 Author/Creator: Knox, Henry (1750-1806) Place Written: Morristown, New Jersey Type: Autograph letter signed Date: 6 April 1777 Pagination: 3 p. : address : docket ; 32.4 x 21 cm.
Loves her and acknowledges her letter. Tries to assuage her fears about the war, smallpox, and his distance from her. Assures her that "General Howe is not driving us thro' the Jersies into Pennsylvania." Discusses the character and rank of the recently arrived French officers. Says France will not enter the war, but will trade, "and will defend that Commerce by force." Is confident that Britain will try to disrupt this trade. Proclaims that he is sure it is "the Will of High Heaven that America should be great," and that is why "a powerful brave army...headed by a man of genius" does not worry him as much as it otherwise would. America "may not deserve" to be great, based on her actions so far, her actions are only lacking because her enemy's only greatness is a "total debauch of morals." Referring to the British he says "let them alone say you. I will for I believe that God has left them alone." Again says that he loves her, and wishes her and William Knox his best. Some text lost in the last paragraph.
[draft]
No 5 Morris Town 6th. [inserted: April] 1777
I leave the usual address at the head of my Letter because I can fix upon none the thousandth part Strong enough to convey the Idea [struck: which I have] of the Strength of my attachment & love to you - I have received yours No 3 [strikeout] my Lucy [strikeout] [inserted: was] Very low spirited when she wrote it - small pox absence, & Genl. Howes driving us thro' the Jersies, all dancing & hazing thro her brain at once were enough to crazy her - most of the evils of Life my dear Girl are imaginary, ('tho an absent Love is by no means a fancied evil) which by examining [struck: and] contemplating well & looking [illegible] at disperse and vanish - [inserted: Heaven will carry my Lucy & her baby] the small pox by [strikeout] & you may rely upon it for a fact that General Howe is not driving us thro' the Jersies into Pensylvania - these two evils will be remov'd don't let them prey any more upon those spirits so essential to the health of my Love - Heaven in its own due time will restore us to [struck: gether] each other with a full proportion of happiness to make up lost time - You seem to doubt the authenticity [2] Chevalier St Louis d Borese [strikeout] Character - he was a Lt Colo. in the service of France and sent out here by Mr Dean - The French from the fullest conviction of its being their interest will most undoubtedly assist us - I have seen authentic papers from France which Removes the smallest doubt from my mind. Though they do not propose to declare War Yet they will open a Commerce with us and will defend that Commerce by force - this Cuts the matter short - France will trade & great britain will interrupt that trade by taking their Vessells - I am Chagrin'd to hear of Cranes ill success as he did not write me - From a throurough view of the mercenary tempers, narrow contracted views, - selfish and designing views of Many of the people of America should be much less sanguine of the success of opposition against, an invasion by a powerful - brave Army of Foreigners headed by a man of Genius and Capacity than I have been - were it not that I have the most enthusiastic assurance of mind That it is the Will of high Heaven that America should be great - she may not deserve it - her exertions have been small, her policy wretched nay her supineness in the past Winter would according to the common operations of things mark her for destruction [3] But we are Contending with a people cruel indeed that far from being enterprizing, far from being mark'd with scarce one Characteristick of Greatness, except a total debauch of morals be a mark of over refine'dness of Manners the consequence of ease and Luxury - let them alone say you - I will for I beleive that God has let them alone.
By this time I hope my Lucy has taken the small pox in such a way as to dissolve it of its terror - may God grant her every necessary [text loss] to go through it with safety [text loss] -
Billy is so set upon going into the Army - but I have given my word to him and I must stand by it - Give my Love to him and tell him so -
Adieu my Dearest blessing
Adieu
Henry Knox
Mrs Knox -
[address leaf]
[text loss] Boston
[later docket]
Morris Town.
6th April 1777.