Knox, Henry (1750-1806) to Lucy Knox
High-resolution images are available to schools and libraries via subscription to American History, 1493-1943. Check to see if your school or library already has a subscription. Or click here for more information. You may also order a pdf of the image from us here.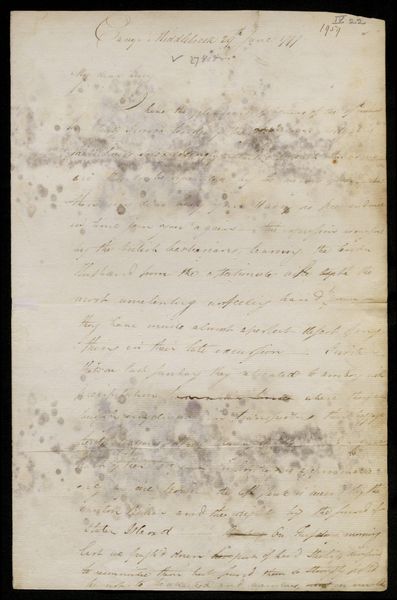 A high-resolution version of this object is available for registered users. LOG IN
Gilder Lehrman Collection #: GLC02437.00618 Author/Creator: Knox, Henry (1750-1806) Place Written: New Jersey Type: Autograph letter signed Date: 29 June 1777 Pagination: 4 p. ; 32 x 20.6 cm.
Written at Camp Middlebrook. Knox writes, "Pity it is that lovers so exceedingly attached to each other as we are should be separated by the horrors of War." Discusses Lord Sterling's movement at Amboy (Perth Amboy, New Jersey) and Westfield, New Jersey. Expects the British to attack on the North River (the Hudson).
[draft]
Camp Middlebrook 29th June 1777
My dear Lucy
I have the pleasure of yours of the 19th instant for which I most tenderly thank you. Pity it is that Lovers so exceedingly attach'd to each other as we are [should?] be separated by the horrors of war - but then my dear Lucy your Harry is free and will in time join you again - this expression [ ? ] by the british barbarians, [tearing?] the tender Husband from the affectionate wife [ ? ] the most unrelenting unfeeling hand [inserted: of] power - they have made almost a perfect defect of every thing in their late excursion - I write you that on last Sunday they retreated to Amboy with precipitation [struck: from which] [strikeout] where they were buisily employed in transporting their baggage tents Waggens Horses Heavy Artillery and a great part of their troops - Amboy is approachable only by one Road - the left flank is sever'd by the Raritan River and the right by the sound of Staten Island - [struck: Amboy] On Tuesday morning last we push'd down [struck: Lor] part of Lord Stirlings division to reconnoitre them but found them so strongly [posted?] as not to be attacked and numbers [struck: went] on our side [2] woud answer no purpose - Lord Stirlings party retird to Ash Swamp distant from amboy about 6 miles - a large part of the Army took post at [ ? ] Town below the heights which our army have occupied for some time past and about 4 or 5 miles in the rear of Lord Stirling - on Thursday morning the enemy having in the night preceeding brought back all their force from Staten Island push'd out without tents or baggage having only light Artillery with a view of suprizing Lord Stirlings division, and [going/giving?] our advantageous [C ?] - [strikeout] Maxwells and Conways Brigades, under the Command of Lord S. were posted on two main roads leading from Amboy to the heights the enemy came in a bye road between the two large roads and effectually separated the two brigades, and for some time put them in a very critical situation however, Lord Stirling's who was with Maxwells brigade after a severe action with 9 or 10 times his number was oblig'd to retire to the Field with the loss of three peices of Cannon and some men [becoming?] I know not but believe not more than 50 or 60 Conways brigade although engaged with the enemy [ ? ] - Lord Stirling retir'd to Westfield and Conways retir'd to the main body - Upon the retiring of Lord Stirling's division the enemy push'd for our left flank with reat Industry, which occassiond our Army to occupy their old ground only more [inclind?] to the left [ ? ] [3] Flank the enemy were we[ll/st?] - The enemy finding we had taken possession of our [strong/stoney?] Grounds again, retir'd to Westfield, plundering every thing before them, and destroying and burning Houses in manner scandalous to Humanity - they stay'd at Westfield on the night of the 26th and the next day to [Morris?] Town [striping?] the County [struck: and] as they went as [far?] as was in their power - Yesterday the 28th they retir'd to Amboy. - we had large parties of light troops continually on their flanks to prevent the plundering the unhappy people who were near to them, and have taken a number of prisoners from them - Our Camp is sto Strong & must put an enemy under such very great disadvantages if he attacks it, that His Excellency thought proper not to defend to [ ? ] to the plains to fight them - had we made this mannoevre so much wish'd for by Mr Howe, he would have immediately taken possession of it and put us under the very disadvantage that we had him under - [strikeout] their officers superior and inferior are very abusive [struck: and] [strikeout] frequently damning and swearing "they had given the Americans every opportunity to fight and they woud now attack their Camp" but this action this very honorable and worthy set delind him from very prudential motives. They give out they are going [4] to New England, but we suppose the North River to be their object - had they not taken the 3 peices of Cannon their last [struck: trip] blustering trip would have have made the modest men on that side blush - I dare say they will find some mode to make it appear a very capital measure - our business is to defend the Country, their business is to attack us they were within one mile and an half of our left flank, why if they were so exceedingly anxious to fight did they not attempt it - droll policy to retire [and?] push off two or three hundred miles to attack the Americans when the could find them within one and a half mile in full sight and view - Sr. Wm. himself its said was very free with his epiteths as if we were oblig'd by any [ ? ] human or divine, like Don Quixot to defend into the plain to take a lusty boxing match with him - if he laughs at us, we [can?] return laugh at him and shall in the course of two days laugh him out of one of the finest provinces in the World - the next Letter you will recieve from me will perhaps be on our march to Hudsons River or perhaps to New England - The Waggon which my Lucy has loaded with good things and sent on to me is not yet arriv'd. I never enjoyd a better state of health than amid the bustle and fatigue I undergo. God preserve you
HKnox