Franks, David Salisbury (ca. 1740-1793) to Lucy Knox
High-resolution images are available to schools and libraries via subscription to American History, 1493-1943. Check to see if your school or library already has a subscription. Or click here for more information. You may also order a pdf of the image from us here.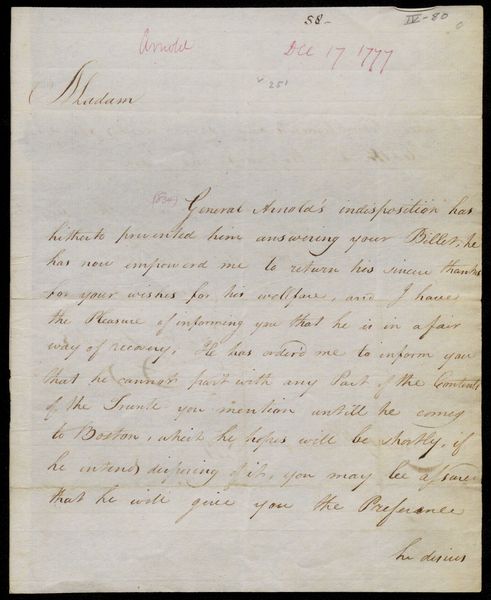 A high-resolution version of this object is available for registered users. LOG IN
Gilder Lehrman Collection #: GLC02437.00673 Author/Creator: Franks, David Salisbury (ca. 1740-1793) Place Written: Albany, New York Type: Autograph letter signed Date: 17 December 1777 Pagination: 2 p. ; 22.8 x 18.3 cm.
Franks, aide-de-camp for General Benedict Arnold, replies on behalf of Arnold to a letter from Lucy Knox. Notes that Arnold's indisposition prevented him from answering Lucy Knox's "Billet," and comments on Arnold's recovery (Arnold suffered from a leg wound inflicted during the Saratoga Campaign). Franks informs Lucy Knox that Arnold cannot part with the contents of an unspecified trunk until he reaches Boston, and offers Lucy Knox preference when he does dispose of the trunk's contents.
See GLC02437.10452 regarding the trunk, the contents of which had been intended for Elisabeth De Blois, a young Loyalist courted (unsuccessfully) by Arnold.
David Salisbury Franks was an American living in Quebec when the American Revolution began. When the colonial army, led by General Benedict Arnold, invaded Canada in 1775, Franks joined the American cause. Though Franks was aide-de-camp for West Point when Arnold attempted to deliver the fort into British hands, Franks was found innocent of having any foreknowledge of the event. General George Washington vocally supported Franks, invited Franks to join his staff during the war, and later helped Franks receive diplomatic appointments to France. However, rumors about Franks's complicity with Arnold continued to dog Franks's career; he ultimately returned to Philadelphia poor and discredited, and he died in the yellow fever epidemic of 1793.
[draft]
Madam
General Arnold's indisposition has hitherto prevented him answering your Billet, he has now empowerd me to return his sincere thanks for your wishes for his wellfare, and I have the Pleasure of informing you that he is in a fair way of recovery. He has order'd me to inform you that he cannot part with any Part of the Contents of the Trunk you mention untill he comes to Boston, which he hopes will be shortly, if he intends dispensing of it, you may be assured that he will give you the Preference he
desires [2] his Compliments and earnest wishes for your Health and Happiness, and I am
Madam, with the greatest Respect
Your most obedient
humble Servant
Dav:d S: Franks
Albany 17th December 1777