Knox, Henry (1750-1806) to William Knox
High-resolution images are available to schools and libraries via subscription to American History, 1493-1943. Check to see if your school or library already has a subscription. Or click here for more information. You may also order a pdf of the image from us here.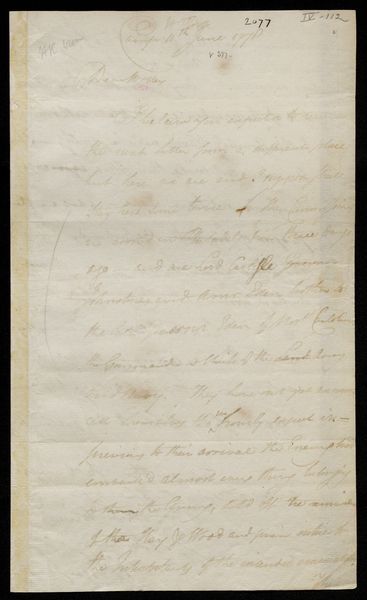 A high-resolution version of this object is available for registered users. LOG IN
Gilder Lehrman Collection #: GLC02437.00709 Author/Creator: Knox, Henry (1750-1806) Place Written: Valley Forge, Pennsylvania Type: Autograph letter signed Date: 10 June 1778 Pagination: 2 p. : address : docket ; 31 x 18.4 cm.
Summary of Content: Reports that British Commissioners William Eden, First Baron Auckland, Frederick Howard, Earl of Carlisle, and Governor George Johnstone are meeting in Philadelphia to discuss conciliation with America. Declares, "Any offers they may make but of Independence, or a total withdraw of their Armies & Navies will be fruitless- I believe they will not make these offers ... " Asks where the soldiers from Massachusetts are, noting that Massachusetts' quotas of men have not arrived at Valley Forge.
Full Transcript: [draft]
Camp 10th June 1778
Dear Billy
I believe you expected to received the next letter from a different place, but here we are and I suppose shall stay here some ...time[.] The Commissioners are arrivd in Philadelphia three days ago - and are Lord Carlisle[,] Governor Johnstone, and [illegible] Eden brother to the late Governor Eden of North Carolina the Commander in Chief of the Army and Navy. They have not yet announced themselves tho we hourly expect it. - previous to the arrival the Enemy had embark'd almost every thing belonging to the Army, sold off the remainder of the Hay & Wood and given notice to the Inhabitants of the intended evacuation .
The [2] Gentlemen arriving at the time they did will detain their Army some days longer than was expected. Any offers they may make short of Independence, or a total withdraw of their Armies & Navies will be fruitless - I believe they will not make these offers ergo they will not treat much - what are the people of Massachusetts doing? Where are their quotas of men? not one have arrivd at this Camp.
Send me the news Papers by the post. I am as Ignorant of what is doing at Boston or as the Antipodes. I beg you to get me some Spirit A ten Gallon [Jug?] at least -
Write me often. Both Lucys are well and give their Love to you
I am Dear Will
Your Affectionate
HKnox
[address leaf]
Mr William Knox
Boston -
[docket]
General Knox
Valley Forge
10th June 1778.See More
People: Knox, Henry, 1750-1806
Knox, William, 1756-1795
Auckland, William Eden, Baron, 1744-1814
Carlisle, Frederick Howard, Earl of, 1748-1825
Johnstone, George, 1730-1787

Historical Era: American Revolution, 1763-1783
Subjects: Valley ForgeRevolutionary WarRevolutionary War GeneralGlobal History and US Foreign PolicyGlobal History and US Foreign PolicyDiplomacyMilitary HistoryNavyFreedom and IndependenceMilitia
Sub Era: The War for Independence