Knox, Henry (1750-1806) to William Knox
High-resolution images are available to schools and libraries via subscription to American History, 1493-1943. Check to see if your school or library already has a subscription. Or click here for more information. You may also order a pdf of the image from us here.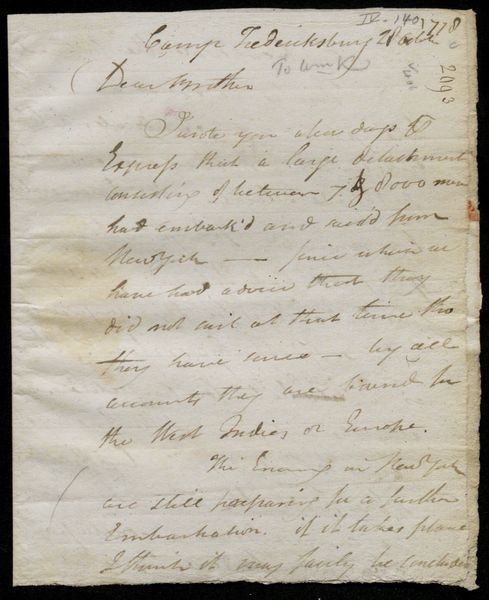 A high-resolution version of this object is available for registered users. LOG IN
Gilder Lehrman Collection #: GLC02437.00735 Author/Creator: Knox, Henry (1750-1806) Place Written: New York Type: Autograph letter signed Date: 28 October 1778 Pagination: 3 p. : address : docket ; 20 x 16.3 cm.
Summary of Content: Written at Fredericksburgh. Reports that a large detachment of British troops sailed recently, and by all accounts are bound for the West Indies or Europe. Writes, "The Enemy in New York are still preparing for a further Embarkation, if it takes place I think it may fairly be concluded They intend to evacuate the Continent. There is one event which if it takes place certainly indicates a total evacuation. I mean the evacuation of Rhode Island. We have intelligence of a number of Empty transports going to Rhode Island if so we conclude it is for the purpose of taking off the Garrison... it is all conjecture we cannot draw a conclusion of what will be done by what they might to do- for they often act directly against their own interest..."
Full Transcript: [draft]
Camp Fredericksburg 21 October 1778
Dear Brother
I wrote you a few days [ago] to Express that a large detachment consisting of between 7 & 8000 men had embark'd and sail'd from New York ...- since which we have had advice that hey did not sail at that time tho they have since - by all accounts they are bound for the West Indies or Europe.
The Enemy in New York are still preparing for a further Embarkation. if it takes place I think it may fairly be concluded [2] They intend to evacuate the Continent.
There is one event which if it takes places certainly indicates a total evacuation. I mean the evacuation of Rhode Island. We have intelligence of a number of Empty transports going to Rhode Island if so we conclude it is for the purpose of taking off the Garrison. There is a wide field for conjecture. - and after the experience of the Enemys going to Philadelphia by the way of the head of Elk it is all conjecture we cannot draw a conclusion of what will be done by what they [3] ought to do - for they often act directly against their own interest -
I shall give you the earliest intelligence of any manuoevre which may affect you
We are all w[ell]
I am D[ear]
Henry Knox
[address leaf]
Mr William Knox
Boston
[docket]
Genl Knox 28th
Octr. 1778
FredericksburgSee More
People: Knox, Henry, 1750-1806
Knox, William, 1756-1795

Historical Era: American Revolution, 1763-1783
Subjects: Revolutionary WarRevolutionary War GeneralMilitary HistoryNavyGlobal History and US Foreign PolicyGlobal History and US Foreign PolicyCaribbeanTransportation
Sub Era: The War for Independence