Knox, Henry (1750-1806) to William Knox
High-resolution images are available to schools and libraries via subscription to American History, 1493-1943. Check to see if your school or library already has a subscription. Or click here for more information. You may also order a pdf of the image from us here.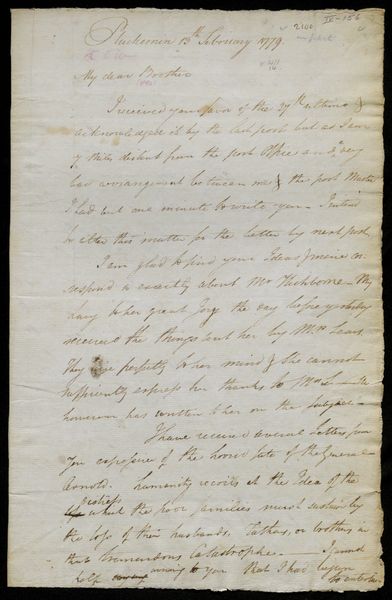 A high-resolution version of this object is available for registered users. LOG IN
Gilder Lehrman Collection #: GLC02437.00750 Author/Creator: Knox, Henry (1750-1806) Place Written: Pluckemin, New Jersey Type: Autograph letter signed Date: 13 February 1779 Pagination: 4 p. : docket ; 32.6 x 21 cm.
Explains why he has not written recently, citing "a very bad arrangement between me & the post Master." Expresses relief that he and William agree regarding an unspecified matter and a Mr. Hichborne (most sources say "Hichborn"). Refers to the "hoorid fate of the General Arnold." Notes "humanity recoils at the Idea of the distress which the poor families must sustain by the loss of their husbands, fathers, or brothers in that tremendous catastrophe" (the General Arnold, a ship, crashed on a sandbar outside of Plymouth, Massachusetts in December 1778). Knox had some investment in the ship, noting his relief that savings from the wreck will pay all expenses. Discusses British ships and the high price of goods in Philadelphia. Instructs William to pay Mr. French a sum owed by Knox. Comments on Betsey and Sally Winslow, who are staying in Pluckemin. Remarks, "You will see in the papers some... charges against Genl [Benedict] Arnold by the State of Pennsylvania- I shall be exceedingly mistaken if one of them can be proven- he has returned to Philadelphia and will I hope be able to vindicate himself from the aspersion of his enemies."
Charges of Arnold's misconduct were presented to the Congress early in February 1779.
[draft]
Pluckemin 13th February 1779.
My dear Brother
I received your favor of the 27th ultimo & acknowledged it by the last post but as I am 7 miles distance from the post Office and a very bad arrangement between me & the poast Master I had but one minute to write you - I intend to alter this matter for the better by next post.
I am glad to find your Ideas & mine correspond so exactly about Mr Hichborne - My Lucy to her great Joy the day before yesterday received the things sent her to Mrs. Sears. They were perfectly to her mind & she cannot sufficiently express her thanks to Mrs S. - She however has written to her on the subject -
I have received several Letters from you expressive of the horrid fate of the General Arnold. humanity recoils at the Idea of the distress which the poor families must sustain by the loss of their husbands, Fathers, or brothers in that tremendous Catastrophe - I cannot help [owning?] to you that I had begun to entertain [2] some considerable hopes from her being [illegible] by her first cruise turning out so successful - but as it is I am all hurt - however I consider my obligations to Colonel Sears the same as if she had made me a little Fortune. I am well pleas'd to learn from you that the savings from the wreck will play all expences - I wish the Tartar and Hero had yielded as much. I hope you will be able to obtain the Cloathing I wrote for from the stores upon moderate terms - At present I am not in the most respectable state in store Articles - I hope your Vessells will not fall into the Enemies hands. However let the event be what it may I most heartily approve the steps you have taken. although the English Ships are pretty numerous and strong in the West Indies yet as the french fleet is so respectable as to oblige them to keep much together I believe the risk is not great than when the English Cruisers had nothing to combat but the Americans.
I hope the purchase you made of English goods will turn out to your satisfaction. [3] I have just returnd from Philadelphia - goods there are amazingly high. White, buff blue and other fashionable broad Cloths from £40 to 50 & £55 a yard and almost every thing in proportion - and yet all this long since the first shock of calling in the money altho' one half of the whole of those emissions were suppos'd to have center'd in that and the neighbouring states - if therefore you should fear losing by your bargain you can at any rate send them thither -
I wrote you in my last that I had borrowed 500 dollars of Mr or Major Trench and had given him in payment Mr Berresfords note for that sum - Mr Trench is now in Boston, you will please to cause that sum to be paid him and take up Mr Berresfords note -
Except Mrs. S-f's Family - I think the Motly Assembly [illegible] - that was a little too severe - Miss Betsey Winslow is a fine young Lady - her sister Sally full of spirit [4] Mrs Knox hopes to detain them with her untill Spring. Indeed from the state of the roads it will be impracticable for them to proceed to Boston untill April or May - You will see in the papers some highly [illegible] charges against Genl Arnold by the state of Pennsylvania - I shall be exceedingly mistaken if one of them can be proven - he has returnd to Philadelphia and will I hope be able to vindicate himself from the Aspersion of his Enemies.
I am Dear William Your Affectionate
HKnox ---
Mr Wm Knox -
[docket]
B. Genl. Knox
13th Feby. 1779.
Pluckemin
To his Bro.
Wm
Aspersions
Against Arnold
By Pennsylvania
Knox's opinion