Knox, Henry (1750-1806) to Lucy Knox
High-resolution images are available to schools and libraries via subscription to American History, 1493-1943. Check to see if your school or library already has a subscription. Or click here for more information. You may also order a pdf of the image from us here.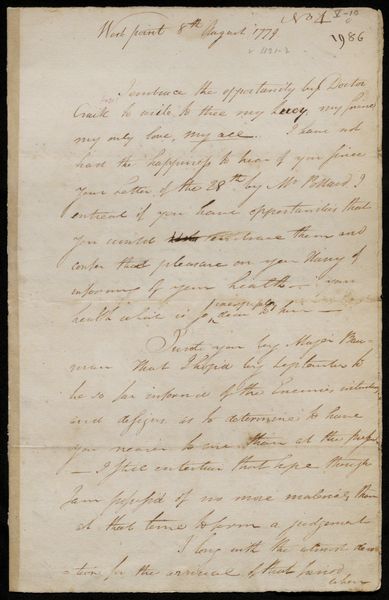 A high-resolution version of this object is available for registered users. LOG IN
Gilder Lehrman Collection #: GLC02437.00780 Author/Creator: Knox, Henry (1750-1806) Place Written: West Point, New York Type: Autograph letter signed Date: 8 August 1779 Pagination: 4 p. : docket ; 31 x 19.7 cm.
Summary of Content: Requests that Lucy write to him and inform him of her health. Recently sent a letter to her through Major Bauman (Sebastian Bauman). Hopes "to be so far informd [sic] of the Enemies intentions and designs, as to determine to have you nearer to me than at the present- I still entertain that hope though I am possess'd of no more materials than at that time to form a judgement." Expresses his wishes at length for a time when they no longer have to be separated. Reports that William, his brother, should have recently sailed (for Holland), but the departure of four British warships from New York, to counteract the Penobscot Expedition, has postponed William's plans to sail. Speculates as to the marriage of Lady Kitty and Mr. Duer (Catherine Alexander and William Duer), as Kitty had kept it a secret. Relates that he asked Colonel [May?] if Kitty and William were married, and May "believed it was true that they were married for that the night before thyy had slept together at his house. This was convincing to me... I did not believe that Lady would merely for the Sake of the Jest and without any counter security go to bed even to Mr. Duer." In closing, asks Lucy to give his love to several people.
Full Transcript: [draft]
No 4
West point 8th August 1779
I embrace the opportunity by Doctor [Craik/Quik] to write to thee my Lucy, my friend, my only love, my all. I have not ...had the happiness to hear of you since your Letter of the 28th by Mr Pollard. I entreat if you have opportunities that you would [strikeout] embrace them and confer that pleasure on your Harry of informing of your health - your health which is so [inserted: inexpressably] dear to him -
I wrote you by Major Bauman that I hop'd by September to be so far inform'd of the Enemies intentions and designs as to determine to have you nearer to me than at the present - I still entertain that hope though I am possessd of no more materials than at that time to form a judgement.
I long with the utmost devotion for the arrival of that period [2] when my Lucy and I shall be no more seperated, when we shall set down free from the hurry, bustle, and impertinence, of the World, in some sequestered Vale where the Education of our children and the preparation on our own parts for a pure & more happy region shall employ the principal part of our time - In acts of Love to men, and Worship to our maker.
Our Brother William had not sail'd on the 29th July but expected to in a day or two - which would bring it about the 1st Instant the day on which 4 large Men of War sail'd from New York to endever to intercept our little Navy at Penobscott, so that that I think the chances are in favor of the poor fellows being made prisoner - however even if that should happen, and to be sure it would be a most adverse event indeed I should [3] no dispond - that Being who has hitherto conducted will I hope still support us.
Lady Kitty really kept her own Secrets uncommonly well - I think she must not have entrusted it in many hands - we did not suppose that she was married at the time we were at Baskenridge -
[struck: or] Mr [D] [struck: was] inform'd a gentleman of it not long after my return from you - I thought it pretty good authority to be sure - but did not know but it might be in jest -
The day before yesterday I was mentioning the affair to Colo [H/Nay] of FishKill who said he beleived it was true that they were married for that the night before they had slept together at his house. This was convincing to me for though it was possible Mr [Duer] might in jest say that he was married yet I did not believe that Lady would [4] merely for the sake of the jest [inserted: and] without any Counter security go to bed - even [inserted: to] Mr [Duer] -
If you are [text loss] Colonel Ogden give my love to him and Mrs Ogden, Mr & Mrs Lott and all the Beverwyck Family, Cousin Eliza, and every body else that you think proper - not forgetting my lovely little Lucy - tell her papa will flog her if she does not write him a Letter - I want to see some of her performance.
Believe me my dearest love to be with the utmost affection your
HKnox
Mrs Knox
[docket]
to Mrs Knox
Augt. 1779
from West PointSee More
People: Knox, Henry, 1750-1806
Knox, Lucy Flucker, 1756-1824
Duer, William, 1747-1799

Historical Era: American Revolution, 1763-1783
Subjects: NavyRevolutionary WarRevolutionary War GeneralMarriageHealth and MedicalMilitary HistoryGlobal History and US Foreign PolicyGlobal History and US Foreign PolicyMaritimeCanadaSexuality
Sub Era: The War for Independence