Knox, Henry (1750-1806) to William Knox
High-resolution images are available to schools and libraries via subscription to American History, 1493-1943. Check to see if your school or library already has a subscription. Or click here for more information. You may also order a pdf of the image from us here.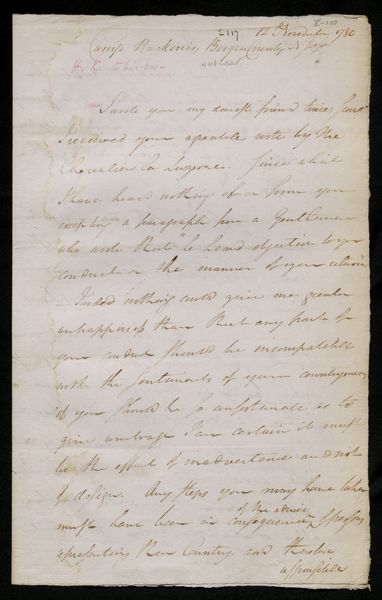 A high-resolution version of this object is available for registered users. LOG IN
Gilder Lehrman Collection #: GLC02437.00857 Author/Creator: Knox, Henry (1750-1806) Place Written: Bergen County, New Jersey Type: Autograph letter signed Date: 12 November 1780 Pagination: 3 p. : address : docket ; 33.6 x 21 cm.
Summary of Content: Advises his brother William for supposed improper behavior on his arrival in Boston. Writes that Lucy is unhappy with the news about her family and mentions the dangerous conditions of the roads. Refers to an incident where mail was stolen and then later published in New York.
Full Transcript: [Draft]
12th November 1780
Camp Pluckemin Bergen County N Jersey

I wrote you my dearest friend twice, since I received your agreable note by The Chevalier la Luzerne. Since which I ...have heard nothing of or from you excepting a paragraph from a Gentleman who wrote that "he heard objection to your conduct on the manner of your return."
Indeed nothing could give me greater unhappiness than that any part of your conduct should be incompatible with the sentiments of your countrymen, if you should be so unfortunate as to give umbrage I am certain it must be the effect of inadvertence and not of design. Any steps you may have taken must have been in consequence of the advice of persons representing their Country, and therefore responsible [2] for the opinion they gave you -
I am exceedingly anxious for the circumstantial detail you promised me in your note. Lucy is extremely unhappy that she hears nothing of her family.
Colonel Cobb who will deliver you this will answer any questions you may [illegible] to ask concerning your little neice and nephew.
In the letter I wrote you by the post I caution'd you against writing freely by the post on the account of the dangerous route it takes, and that one of the mails was lately [illegible] and carried into New-York. But I suppose that the route will be alter'd soon when you may write as you please.
[3] Lucy when young had a sliver bell and coral, it is [illegible] among the Articles your sister left in Boston - if you can find a safe conveyance send it on as [Lucy] wants it much -
I am my dearest Brother with every sentiment of tender affection
Your
HKnox
MrWilliam KnoxSee More
People: Knox, William, 1756-1795
Knox, Henry, 1750-1806
La Luzerne, Anne César de, 1741-1791

Historical Era: American Revolution, 1763-1783
Subjects: Revolutionary WarRevolutionary War GeneralInfrastructureTravelChildren and FamilyLoyalistPost OfficeGlobal History and US Foreign PolicyGlobal History and US Foreign PolicyJournalism
Sub Era: The War for Independence