Knox, Lucy Flucker (ca. 1756-1824) to Henry Knox
High-resolution images are available to schools and libraries via subscription to American History, 1493-1943. Check to see if your school or library already has a subscription. Or click here for more information. You may also order a pdf of the image from us here.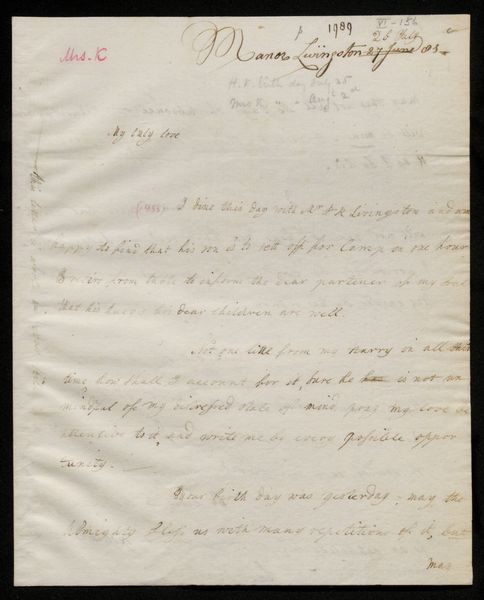 A high-resolution version of this object is available for registered users. LOG IN
Gilder Lehrman Collection #: GLC02437.01091 Author/Creator: Knox, Lucy Flucker (ca. 1756-1824) Place Written: Livingston Manor, New York Type: Autograph letter signed Date: 26 July 1781 Pagination: 2 p. : docket ; 24.3 x 19.6 cm.
Dines with Colonel P. R. [possibly Peter R.] Livingston. Chastises Henry for not writing to her "by every possible opportunity." Remarks on Henry's birthday the previous day, and her birthday the following Thursday. Plans to depart 27 July for Albany.
[draft]
Manor Livingston [struck: 27 June] [inserted: 26 July] 81
My Only love
I dine this day with Mr [P?] R Livingston and am happy to find that his son is to sett off for Camp in one hour & retire from table to inform the dear partener of my Soul that his Lucy & his dear children are well.
Not one line from my Harry in all this time how shall I account for it, sure he [struck: has] is not unmindful of my distressed state of mind pray my love be attentive to it, and write me by every possible opportunity -
Your birth day was yesterday, may the Almighty bless us with many repetitions of it, but [2] may they not all be days of absence - Thursday next will be mine - I wish my Harry as deeply affected by it as I by his.
I would write much more but the time will not permit - hope you have recd my letter which I forwarded by Colo Lewis and that I shall have a long epistle by his return -
I shall sett off tomorrow for Albany but make a very short stay, as I find there is no chance of hearing from you and am of course very discontented
be civil to the bearer of this as an acknoledgement of the great politeness of his family to your
Lucy Knox -
[docket]
From Mrs Knox 26 July
1781