Knox, Lucy Flucker (ca. 1756-1824) to Henry Knox
High-resolution images are available to schools and libraries via subscription to American History, 1493-1943. Check to see if your school or library already has a subscription. Or click here for more information. You may also order a pdf of the image from us here.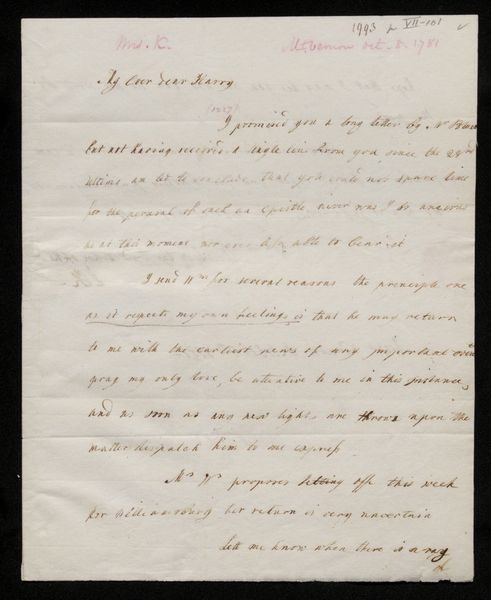 A high-resolution version of this object is available for registered users. LOG IN
Gilder Lehrman Collection #: GLC02437.01214 Author/Creator: Knox, Lucy Flucker (ca. 1756-1824) Place Written: Mount Vernon, Virginia Type: Autograph letter signed Date: 8 October 1781 Pagination: 2 p. + addr. + docket
Chastises her husband for not writing. Asks Henry when she will see him and why he has not written. The Continental Army was then involved in the siege of Yorktown.
[draft]
My ever dear Harry
I promised you a long letter by Mr Blair but not having received a single line from you since the 23rd Ultimo am led to conclude that you could not spare time for the perusal of such an epistle never was I so anxious as at this moment nor ever less able to bear it
I send Wm for several reasons the principle one as it respects my own feelings, is that he may return to me with the earliest news of any important event pray my only love, be attentive to me in this instance, and as soon as any new lights are thrown upon the matter dispatch him to me express
Mrs W proposes setting off this week for Williamsburg - her return is very uncertain
Lett me know when there is a ray of [2] hope that I may see you and why you do not write by the post
You will find Mr Blair an histeric companion to him I refer you for farther particulars - as my pen is infamous - and myself not well -
Adieu in the true sense of the word
LK -
Mount Vernon October 8th 1781 -
[address leaf]
Genl Knox
favrd by Camp
the Revd Mr Blair
[docket]
From Mrs Knox Octr
1781