Knox, Henry (1750-1806) to William Knox
High-resolution images are available to schools and libraries via subscription to American History, 1493-1943. Check to see if your school or library already has a subscription. Or click here for more information. You may also order a pdf of the image from us here.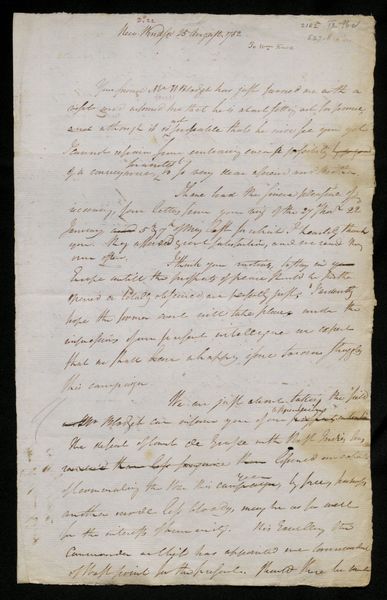 A high-resolution version of this object is available for registered users. LOG IN
Gilder Lehrman Collection #: GLC02437.01539 Author/Creator: Knox, Henry (1750-1806) Place Written: New Windsor, New York Type: Autograph letter signed Date: 25 August 1782 Pagination: 2 p. : docket ; 33.4 x 20.6 cm.
Writes that a friend of William's [name illegible but might be Mr. Samuel Hodgdon] will be travelling to France and will see William, so Knox felt he had to take the opportunity to write. Thanks William for his last several letters. Comments that he thinks William's motives are just for remaining in Europe till peace is achieved. Mentions the recent defeat of Comte de Grasse, and also relates that General George Washington has appointed him Commandant of West Point. Reports that he and his family resided in Philadelphia until they moved to the North River. Writes, "All my little family have been much afflicted with sickness," and mentions that Mrs. Knox and Mary were ill with intermittent fevers but have recovered. Lucy was declining rapidly so they brought her to the North River for the pure air, and it has helped aid her recovery. Marcus has been suffering from "a [dysentery?] a consequence of [getting] teeth." He fears that William "will never have the pleasure to see him. A few days, perhaps a few hours may decide his fate."
[partial] [draft]
[1]...I have had the sincere pleasure of receiving, your letters from you [viz] of the 27 [Thrgh] 22d January, [struck: and] 5h & 7h of May last for which I heartily thank you. They afforded great satisfaction, and we read them [very] often.
I think your motives, to stay in [struck: your] Europe untill the prospects of peace should be further opened or totally obscured, are perfectly just. I ardently hope the former event will take place. under the impressions of our present intelligence we expect that we shall have a happy issue to our struggles this campaign.
We are just about taking the field [struck: and] Mr Blodget can inform you our [struck: prospects in taking] [inserted: app[illegible] The defeat of Count de Grasse in the West Indies has [struck: render'd them less illegible than] lessened our [expectation] of terminating the War this [struck: Campaign] [inserted: year], by free, perhaps another mode less bloody, may be as so well for the interests of humanity. His Excellency the Commander in Chief has appointed me Commandment of West Point for the present. Should there be much [2] activity in the field, I suppose I shall be relieved...