Shaw, Samuel (1754-1794) [Order to the Commissary for the arrearage of provisions due to Mrs. Corbin of the Invalids]
High-resolution images are available to schools and libraries via subscription to American History, 1493-1943. Check to see if your school or library already has a subscription. Or click here for more information. You may also order a pdf of the image from us here.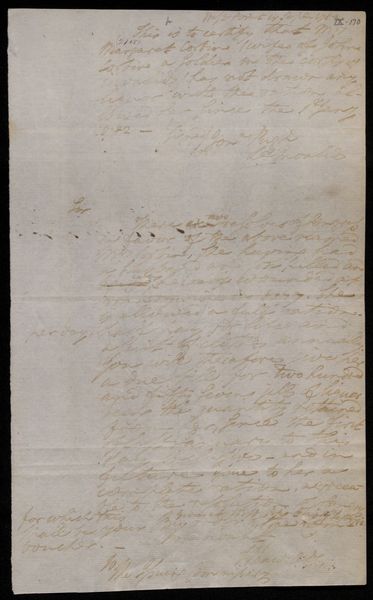 A high-resolution version of this object is available for registered users. LOG IN
Gilder Lehrman Collection #: GLC02437.01611 Author/Creator: Shaw, Samuel (1754-1794) Place Written: s.l. Type: Autograph document signed Date: 14 September 1782 Pagination: 1 p. : docket ; 29.3 x 18 cm.
Summary of Content: Includes a note at the top of the page, in Shaw's hand, from Jonathan Pugh, Lieutenant of Invalids, which reads, "This is to certify that Mrs. Margaret Corbin (wife of John Corbin a soldier in the corps of Invalids) has not drawn any liquor with the ration allowed her since the 1st Jany 1782." Below, Shaw relates that Mrs. Corbin has two Congressional resolves in her favor, "she having had a husband and son killed and was herself wounded at Brandywine in 1777. She is allowed a full ration per day, half pay for life and a suit of clothes annually. " Orders the Commissary to give her the amount of liquor due her after not having been given her ration since 1 January 1782. Also declares that the present letter is the Commissary's voucher authorizing him to give her the rations due to her from now on. See GLC02437.01591, GLC02437.01595, and GLC02437.01611 for related information.
Background Information: According to the American National Biography, Corbin was wounded at the Battle of Fort Washington, although Shaw notes she was wounded at Brandywine. Her husband was operating a piece of ...artillery when he was killed, so Corbin took command of the cannon and received grape shot in her left shoulder. She wasn't granted pension until 1779, when Congress granted her a complete suit of clothes and half the monthly pay of a soldier as long as she remained disabled. After Congress's action, she enrolled in the Invalid Corps (performing garrison duties). In 1781, the Invalid Corps became an official part of the garrison at West Point where she remained until her discharge in 1783. She remained in the West Point/Highland Falls vicinity and was buried in the town of Highland Falls. Corbin's body was exhumed in 1926 by DAR and reinterred at West Point.See More
People: Shaw, Samuel, 1754-1794
Pugh, Jonathan, fl. 1782
Corbin, Margaret Cochran, 1751-1800

Historical Era: American Revolution, 1763-1783
Subjects: Muster Rolls and ReturnsBattle of Brandywine (Brandywine Creek)Revolutionary WarMilitary HistoryWomen's HistoryInjury or WoundMilitary ProvisionsAlcoholContinental CongressCongressGovernment and CivicsPensionsSoldier's PayDeathBattleChildren and FamilyClothing and AccessoriesMilitary Uniforms
Sub Era: The War for Independence