Biddle, Clement (1740-1814) to Henry Knox
High-resolution images are available to schools and libraries via subscription to American History, 1493-1943. Check to see if your school or library already has a subscription. Or click here for more information. You may also order a pdf of the image from us here.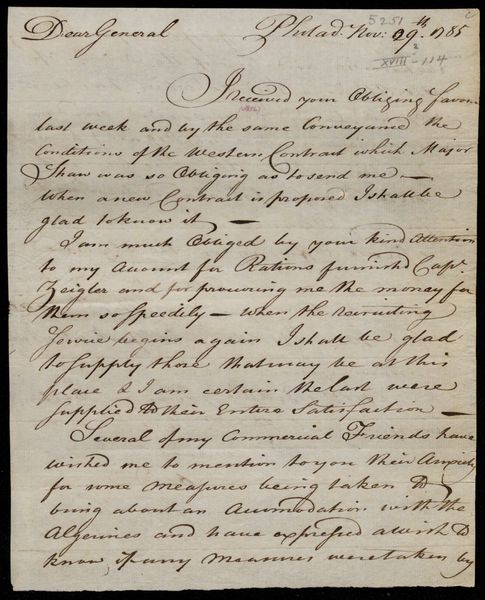 A high-resolution version of this object is available for registered users. LOG IN
Gilder Lehrman Collection #: GLC02437.03221 Author/Creator: Biddle, Clement (1740-1814) Place Written: Philadelphia, Pennsylvania Type: Autograph letter signed Date: 29 November 1785 Pagination: 2 p. ; 23.4 x 18.7 cm.
Summary of Content: Thanks him for his recent correspondence and for the "western" contract Samuel Shaw sent him. Will be glad to know when a new contract is ready. Thanks him for attending to his accounts of rations that he furnished Captain [likely David] Zeigler, as well as for procuring him money for the rations. Mentions that his "commercial friends" wanted him to ask Knox about problems with the "Algerines," or pirates. Wishes to know whether Congress has passed any measures regarding the pirates. Mentions that some friends of his own a frigate which they would be willing to donate to Congress for use as a war ship or else as a peace offering to the pirates, if appropriate. He and his wife send their regards to Mrs. Lucy Knox.
Background Information: The United States government sometimes paid tribute to pirate states. This issue ultimately culminated in the First and Second Barbary Wars, between 1801 and 1815, in which the United States fought against ...several North African countries.See More
People: Knox, Henry, 1750-1806
Biddle, Clement, 1740-1814
Shaw, Samuel, 1754-1794
Knox, Lucy Flucker, 1756-1824
Zeigler, David, 1748-1811

Historical Era: The New Nation, 1783-1815
Subjects: NavyPiratesRevolutionary War GeneralMilitary HistoryMilitary ProvisionsCommerceMerchants and TradeContractFinanceBarbary CoastAfricaCongressLawMaritimeGlobal History and US Foreign PolicyGlobal History and US Foreign PolicyGovernment and CivicsDiplomacy
Sub Era: Creating a New Government