Blackden, Samuel (fl. 1786) to Henry Knox
High-resolution images are available to schools and libraries via subscription to American History, 1493-1943. Check to see if your school or library already has a subscription. Or click here for more information. You may also order a pdf of the image from us here.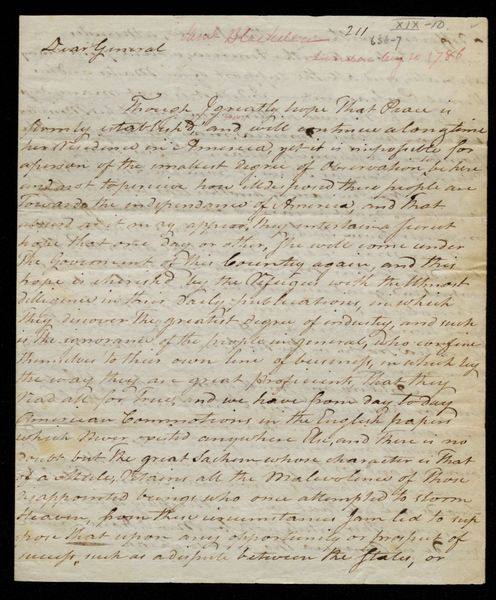 A high-resolution version of this object is available for registered users. LOG IN
Gilder Lehrman Collection #: GLC02437.03294 Author/Creator: Blackden, Samuel (fl. 1786) Place Written: London, England Type: Autograph letter signed Date: 20 August 1786 Pagination: 3 p. : docket ; 23.5 x 19.4 cm.
Writes that while he hopes that peace continues in America, it is hard to be in England and not see how "ill-disposed" the people there are to American independence. Believes that most British citizens think and hope America will come back under the English government, and all the newspapers, even the small, local ones, take that position. Discusses the possibility of a second war with England and how it would be fought. Suggests that America does not have sufficient cavalry so proposes that he have equipment made for their use. Also wishes to write to Congress for appointment as consul to London or Dublin. Has appealed to friends like Colonel Wadsworth and Colonel Carrington who are not members of Congress. Asks for Knox's support in his bid for an appointment.
Samuel Blackden was an American businessman and former military officer living in England.