Gorham, Nathaniel (1738-1796) to Henry Knox
High-resolution images are available to schools and libraries via subscription to American History, 1493-1943. Check to see if your school or library already has a subscription. Or click here for more information. You may also order a pdf of the image from us here.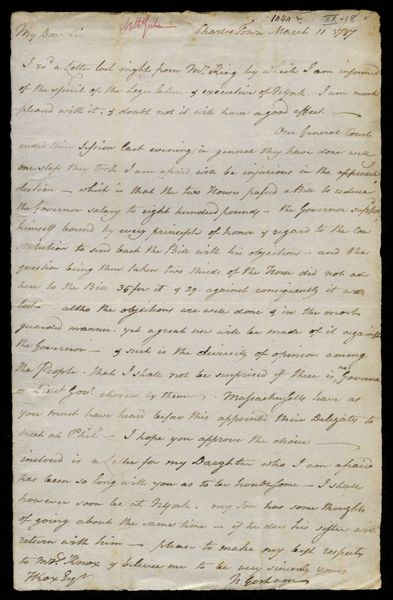 A high-resolution version of this object is available for registered users. LOG IN
Gilder Lehrman Collection #: GLC02437.03488 Author/Creator: Gorham, Nathaniel (1738-1796) Place Written: Boston, Massachusetts Type: Autograph letter signed Date: 11 March 1787 Pagination: 1 p. : docket ; 33.1 x 21 cm.
Summary of Content: Discusses an issue concerning the salary of the governor. States that "One step they [the General Court] took[,] I am afraid[,] will be injurious in the approach[ing] election - which is that the two Towns passed a Bill to reduce the Governor salary to eight hundred pounds." Believes that the state did not honor the agreement made with the governor concerning his income. Writes that "such is the diversity of opinion among the People that I shall not be surprised if there is no Governor or Lieut Gov. chosen by them." Notes that the state has chosen its delegates for the meeting in Philadelphia [Federal Convention]. Noted as written in Charles Town, which is now part of Boston, Massachusetts. Signer of the U.S. Constitution.
Background Information: Signer of the U.S. Constitution.
Full Transcript: [draft]
Charles Town March 11 1787
My Dear Sir
I red a letter last night from Mr. King by which I am informed of the spirit of the Legislative & executive of N ...York. I am much pleasd with it. & doubt not it will have a good effect. -
Our General Court ended their session last evening; in general they have done well one step they took I am afraid will be injurious in the approaching election - which is that the two Houses passed a Bill to reduce the Governor salary to eight hundred pounds - the Governor supplied himself bound by every principle of honor & regard to the Constitution to send back the Bill with his objections - and the question being then taken two theirs of the House did not adhere to the Bill 35 for it & 29 against consequently it was lost although the objections are well done & in the most guarded manner yet a great use will be made of it against the Governor - & such is the diversity of opinion among the People that I shall not be surprised if there is [inserted: no] Governor or Lieut Govr. chosen by them. Massachusetts have as you must have heard before this appointed their Delegates to meet at Phila - I hope you approve the choice - inclosed is a letter for my Daughter who I am afraid has been so long with you as to be troublesome - I shall however soon be at N York - my son has some thoughts of going about the same time - if he does his sister will return with him - please to make my best respects to Mrs. Knox & believe me to be very sincerely yours
N Gorham
H Knox Esqr

[docket]
Charles Town 11th March 1787
Nathl Gorham Esqr
See More
People: Gorham, Nathaniel, 1738-1796
Knox, Henry, 1750-1806

Historical Era: The New Nation, 1783-1815
Subjects: Government and CivicsFinanceEconomicsLawElectionUS ConstitutionUS Constitutional Convention
Sub Era: Creating a New Government