Knox, William (1756-1795) to Henry Knox
High-resolution images are available to schools and libraries via subscription to American History, 1493-1943. Check to see if your school or library already has a subscription. Or click here for more information. You may also order a pdf of the image from us here.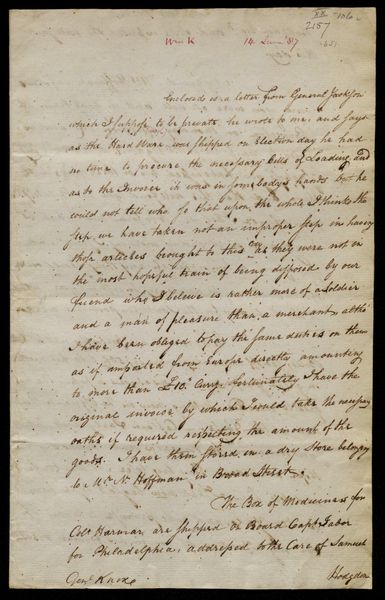 A high-resolution version of this object is available for registered users. LOG IN
Gilder Lehrman Collection #: GLC02437.03579 Author/Creator: Knox, William (1756-1795) Place Written: s.l. Type: Autograph letter signed Date: 14 June 1787 Pagination: 3 p. : docket ; 32.2 x 20.3 cm.
Summary of Content: Relates that Henry Jackson had shipped some goods on behalf of Knox, but was unable to procure a bill of lading. Notes, "...upon the whole I think the step we have taken not an improper step in having those articles brought to this city, as they were not in the most hopeful train of being disposed by our friend who I believe is rather more of a soldier and a man of pleasure than a merchant..." As a consequence, William had to pay the same duties on the goods as if they were imported directly from Europe. Mentions a box of medicine sent to Colonel Harmar, addressed to the care of Samuel Hodgdon. Gives news of friends and family.
Full Transcript: [draft]
Enclosed is a letter from General Jackson which I suppose to be private he wrote to me and says as the Hard Ware was shipped on Election day he ...had no time to procure the necessary Bills of Lading and as to the invoice it was in somebodys hands but he could not tell who so that upon the whole I think the step we have taken not an improper step in having those articles brought to this [inserted: city] as they were not in the most hopeful train of being disposed by our friend who I believe is rather more of a soldier and a man of pleasure than a merchants, altho' I have been obliged to pay the same duites on them as if imported from Europe directly amounting to more than £10.s Curry. fortunately I have the original invoice by which I could take the necessary oaths if required respecting the amount of the goods. I have them stored in a dry store belonging t Mr. N. Hoffman in Broad Street.
The Box of medicines for Colo. Harmar are shipped on Board Capt Sador for Philadelphia, addressed to the care of Samuel [2] Hodgdon Esqr. And it is expected he will sail this day.
My friend Mrs. Hoffman informs me you were all well and in good train at Princeton on Monday afternoon 2 OC and expected to reach Mr.& Mrs. Ogdens in the Evening I suppose you have passed two or three days with them and that this will find you in Philadelphia from whence I beg you to inform me what is doing, and on Monday morning I shall write you again, or tomorrow if any thing should occur of which it may be necessary to inform you, which is the last day for the Southern post this week.
The Children are perfectly well. Little Bill set off on Monday morning 5 OC left his mother in great grief, mais comme ses choses se passes, she has greatly recovered. Nothing new in the Office - nothing new at the House. - Captain Sarly and Lady Sail tomorrow for Virginia and France - No hope arrived - Pray try to see Mr. De[teufuills] and tell him, I shall now be glad to see him in New Yorke, and will promise to make up for my intention to him, in his former visit [3] My love to Mrs. Knox - Kiss Lucy for me and tell her not to be bashful, but as modest as she pleases - no inflammation I hope in her eye from the journey.
Yours affectionately
W Knox
Thursday morning
6 OClock 14th. June 87

[docket]
Wm Knox 14 June 1787
See More
People: Knox, William, 1756-1795
Knox, Henry, 1750-1806
Jackson, Henry, 1747-1809

Historical Era: The New Nation, 1783-1815
Subjects: Merchants and TradeCommerceFinanceMilitary HistoryTaxes or TaxationEconomicsGlobal History and US Foreign PolicyGlobal History and US Foreign PolicyGamblingHealth and MedicalRevolutionary War General
Sub Era: Creating a New Government