Humphreys, David (1752-1818) to Henry Knox
High-resolution images are available to schools and libraries via subscription to American History, 1493-1943. Check to see if your school or library already has a subscription. Or click here for more information. You may also order a pdf of the image from us here.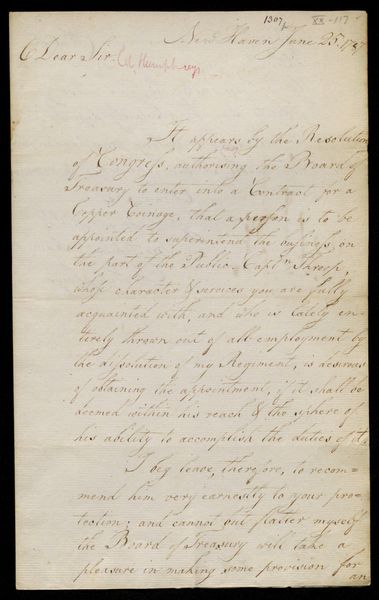 A high-resolution version of this object is available for registered users. LOG IN
Gilder Lehrman Collection #: GLC02437.03590 Author/Creator: Humphreys, David (1752-1818) Place Written: New Haven, Connecticut Type: Autograph letter signed Date: 25 June 1787 Pagination: 2 p. : docket ; 32.2 x 19.9 cm.
Summary of Content: Writes in full, "It appears by the Resolution of Congress, authorizing the Board of Treasury to enter into a Contract for a Copper Coinage, that a person is to be appointed to superintend the business on the part of the Public. Captn Throop, whose character & services you are fully acquainted with, and who is lately entirely thrown out of all employment by the dissolution of my Regiment, is desirous of obtaining the appointment, if it shall be deemed within his reach of the sphere of his ability to accomplish the duties of it. I beg leave, therefore, to recommend him very earnestly to your protection; and cannot but flatter myself the Board of Treasury will take a pleasure in making some provision for an officer, whose circumstances (thro the fickleness of public measures) are unhappily but too ineligible, and whose zeal & fidelity may be absolutely depended upon."
Full Transcript: [draft]
New Haven June 25 1787
Dear Sir
It appears by the Resolution of Congress, authorizing the Board of Treasury to enter into a Contract for a Copper Coinage, that a person ...is to be appointed to superintend the business on the part of the Public. Captn Throop, whose character & services you are fully acquainted with, and who is lately entirely thrown out of all employment by the dissolution of my Regiment, is desirous of obtaining the appointment, if it shall be deemed within his reach of the sphere of his ability to accomplish the duties of it.
I beg leave, therefore, to recommend him very earnestly to your protection; and cannot but flatter myself the Board of Treasury will take a pleasure in making some provision for [2] an officer, whose circumstances (thro the fickleness of public measures) are unhappily but too ineligible, and whose zeal & fidelity may be absolutely depended upon.
Humbly soliciting your pardon for this trouble; I have the honor to remain
Dear Sir
Your Most obedt. &
Most humble Servant
D. Humphreys


The Honble
Genl Knox

[docket]
Colo Humphreys -
25 June 1787
recommending Capt.
Throop for Superintendent
of the MintSee More
People: Knox, Henry, 1750-1806
Humphreys, David, 1752-1818

Historical Era: The New Nation, 1783-1815
Subjects: Revolutionary War GeneralGovernment and CivicsContinental CongressCongressFinanceEconomicsCoins and CurrencyIndustryContractMilitary HistoryOffice SeekerLetter of Introduction or Recommendation
Sub Era: Creating a New Government