Knox, Henry (1750-1806) to Marquis de Lafayette
High-resolution images are available to schools and libraries via subscription to American History, 1493-1943. Check to see if your school or library already has a subscription. Or click here for more information. You may also order a pdf of the image from us here.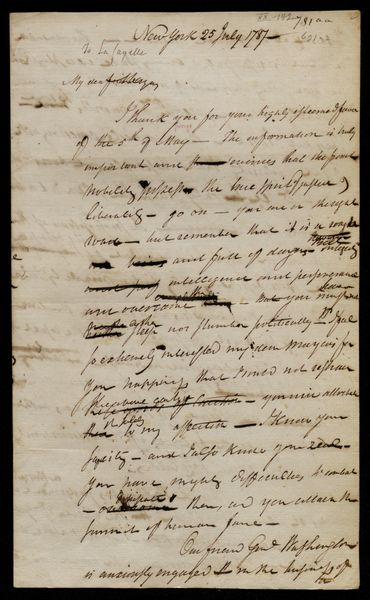 A high-resolution version of this object is available for registered users. LOG IN
Gilder Lehrman Collection #: GLC02437.03616 Author/Creator: Knox, Henry (1750-1806) Place Written: New York, New York Type: Autograph letter signed Date: 25 July 1787 Pagination: 4 p. ; 32.1 x 19.6 cm.
References Lafayette's letter of 5 May 1787. Says the letter gave information that was "truly important and evinces that the french nobility possess the true spirit of justice & liberality." Tells him that there are dangers and that he "must not either sleep nor slumber politically." Reports that "Our friend Genl Washington is anxiously engaged in the business of thr forming of the political machine." Says delegates from every state except Rhode Island have met at a constitutional convention for the past two months. Declares, "They are secret in their councils, [conceiving] such great propriety that, the people ought not to see only half the plan at a time." Argues that only time will tell if the document will be as perfect as the occasion calls for, but believes the chances are good because of "the characters who compose the convention." Says that Washington's judgment comes from great deliberation and reflection and that "His attendance in the convention adds in my opinion new lustre to his character - Secure as he was in his fame, he has again committed it to the mercy of events. Nothing but the critical situation of his country would have induced him to so hazardous a conduct - But when its happiness being endangered he disregards all personal considerations." Mentions that new French members were elected to the Society of the Cincinnati. Says arrangements have been made to deal with Major Pierre Charles L'Enfant's situation with the Society's badges.
[draft]
New York 25th July 1787 -
My dear [struck: friend] Marquis
I thank you for your highly esteemed favor of the 5th of May - The information is truly important and [strikeout] evinces that the french nobility possess the true spirit of justice & liberality - go on - you are on the right road - but remember that it is a rough [struck: and strikeout] and full of dangers - [inserted & struck: However] [inserted: But] Integrity [struck: and pers] intelligence and perseverance will overcome [strikeout] [inserted and strikeout] - But you must not [inserted: however] [struck: neither] [inserted and struck: neither] [inserted: either] sleep nor slumber politically - I feel so extremely interested my dear Marquis for your happiness that I [could] not refrain [struck: these words of Caution] [inserted: illegible] - you will attribute [struck: then] [inserted: it solely] to my affection - I know your sagacity - and I also know your zeal - you have mighty difficulties to combat - [struck: overcome] [inserted: dissipate] them, and you attain the summit of human [fame] -
Our friend Genl Washington is anxiously engaged [strikeout] in the business of [strikeout] [2] [struck: are] forming [struck: of] the political machine. The convention in what is represented every state excepting RIsland has been fully upwards of two months and will probably continue together [inserted: for] two months [struck: more] [inserted: to come] - They are secret in their councils, conceivg with great propriety that, the people [struck: out doors] ought not to see [struck: to] only half the plan at a time - Whether [struck: it will be] the proposition of the convention will be as perfect as [struck: they ought to] [inserted: the occasion may require] [be] is a discovery only to be made by time - But from the characters who compose the convention it may be fairly presumed that the result of their deliberators will be [inserted: as] wise, [struck: as [illegible] [propositions] can be found] [inserted: as could be expected from men] under the same circumstance - [struck: The members are] Many of the members without absorbing all the talents of the community are certainly men of [inserted: the first] abilities -
General Washingtons judgment [inserted: on this great [issue]] is, as it always has been [struck: the] the effect of great deliberation and reflection - It is mature and wise - His attendance in the convention adds [3] adds in my opinion new lustre to his character - Secure as he was in his fame, he has again committed it to the mercy of events - Nothing but the [inserted: critical] situation of his country would have induced him to so hazardous a conduct
- But when [struck: the happiness, of his country is] [inserted: its happiness being] endangd he [struck: f] disregards all personal [struck: security] [inserted: considerations] -
We lately have had a meetg of the society of the Cincinnati, and admitted the Marquis de Bouilli as a member - I [inform] him, and also your friend the Count de [Spaige] of this circumstance by the present packet -
The General meeting took arrangements for the settlement of Major L Enfants accounts - I hope they will be perfectly satisfactory, although they [struck: are not] can not be brough to finall conclusion immediately - The money which you advanced will be reimbursed [struck: to you] [4] Major L Enfants reputation will stand uninjured, and I presume he will be [enabled] to [pay] completely -
I pray you to write me as often as your leisure will admit - let me know about the affairs of the dutch - they appear to be [strikeout] [inserted: deeply wounded] [that] [illegible] by the [illegible] disputes -
Please to present the most respectful compliments of [struck: myself &] Mrs Knox & myself to the [inserted: honorable] marchioness [strikeout] and also to Colonel Gouvion -
I am my dear Marquis
Your [strikeout] respectful &
[illegible] affectionate HKnox
[struck: I am] The right honorable
The Marquis de la Fayette -