Washington, George (1732-1799) to Henry Knox
High-resolution images are available to schools and libraries via subscription to American History, 1493-1943. Check to see if your school or library already has a subscription. Or click here for more information. You may also order a pdf of the image from us here.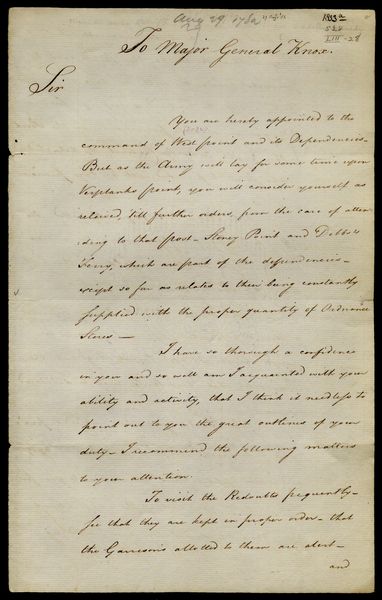 A high-resolution version of this object is available for registered users. LOG IN
Gilder Lehrman Collection #: GLC02437.09376 Author/Creator: Washington, George (1732-1799) Place Written: s.l. Type: Manuscript letter signed Date: 29 August 1782 Pagination: 3 p. : docket ; 32 x 20 cm.
Summary of Content: Appointing Knox in command of West Point "and its Dependencies." Notes matters requiring specific attention, including "visit the Redoubts frequently" and keep them furnished with supplies, call the rolls often. Also requests that Knox deal with the erection of new buildings and a shortage of tents. Also notes of Knox "I have so thorough a confidence in you and so well am I acquainted with your ability and activity, that I think it needless to point out to you the great outlines of your duty." Written at "Head Quarters," likely from New York or New Jersey.
Background Information: Signer of the U.S. Constitution.
Full Transcript: To Major General Knox.
Sir

You are hereby appointed to the command of West point and its Dependencies - But as the Army will lay for some time upon Verplanks ...point, you will consider yourself as releived, 'till further orders, from the care of attending to that post - Stoney Point and Dobb's Ferry, which are part of the dependencies - except so far as relates to their being constantly supplied with the proper quantity of Ordnance Stores -
I have so thorough a confidence in you and so well am I acquainted with your ability and activity, that I think it needless to point out to you the great outlines of your duty - I recommend the following matters to your attention.
To visit the Redoubts frequently - see that they are kept in proper order - that the Garrisons allotted to them are alert - and [2] and that they make it an invariable Rule to sleep within the Works. They should each be furnished constantly with ten days Wood and Water, and if the Contractors keep up such a Magazine of Salt provision upon the Point as they ought to do by Contract, the detached Works should be provided with ten days provision also -
The Rolls to be frequently called - No Officer to be absent without your leave, and no non Commissioned Officer or soldier without the leave of a Field Officer:
The Quarter Master having reported a scarcity of Tents, you will be pleased to remove the 10th: Massachusetts Regt. into the Barracks, that their tents may be delivered up -
No Buildings either public or private to be erected without your knowledge, and when applications are made to you for that purpose, you will, if the applications are admitted, direct the commanding Engineer [3] Engineer to point out the situations, that they may not interfere with the defences of the place -
The public Buildings now carrying on, and the alterations and repairs of the Works will engage your particular attention. You know the necessity of bringing them to a certain state before the Frost sets in.}

Given at Head Quarters at
Newburg the 29:t of August
1782 -
Go: Washington
[docket]
Instructions
to
Majr. Genl: Knox.See More
People: Washington, George, 1732-1799
Knox, Henry, 1750-1806

Historical Era: American Revolution, 1763-1783
Subjects: PresidentRevolutionary WarRevolutionary War GeneralMilitary HistoryFortificationWest Point (US Military Academy)Military SuppliesMilitary CampBuilding Construction
Sub Era: The War for Independence