Washington, George (1732-1799) to Henry Knox
High-resolution images are available to schools and libraries via subscription to American History, 1493-1943. Check to see if your school or library already has a subscription. Or click here for more information. You may also order a pdf of the image from us here.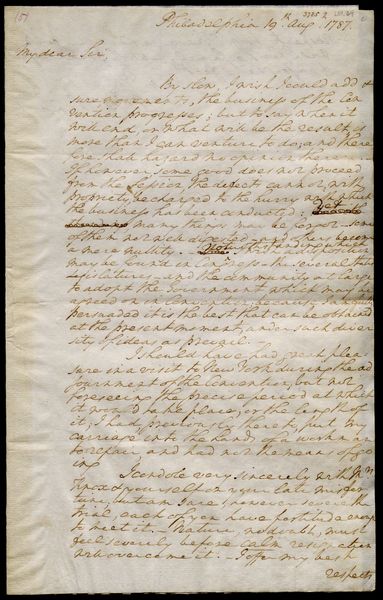 A high-resolution version of this object is available for registered users. LOG IN
Gilder Lehrman Collection #: GLC02437.09414 Author/Creator: Washington, George (1732-1799) Place Written: Philadelphia, Pennsylvania Type: Autograph letter signed Date: 19 August 1787 Pagination: 2 p. : address : docket : free frank ; 31.8 x 19.8 cm.
Summary of Content: Discusses the Constitutional Convention, and cannot predict the result. Hopes Congress, the states' legislatures, and the community at large will adopt the government agreed upon in the Convention. Is convinced that such government is the best that may be obtained "at the present moment, under such diversity of ideas as prevail." Had anticipated a visit to New York during adjournment of the Convention, but was unable to plan the precise time when an intermission would arise, and thus placed his carriage in the hands of a repairman. Offers his condolences to Knox regarding an unspecified misfortune (the death of Knox's daughter Caroline). Docketed in Knox's hand. Free frank signed by George Washington.
Background Information: Signer of the U.S. Constitution.
Full Transcript: Philadelphia 19th. Augt. 1787.
My dear Sir,
By slow, I wish I could add & sure, movements, the business of the Convention progresses; but to say when it will end, or what ...will be the result, is more than I can venture to do; and therefore shall hazard no opinion therein. - If however, some good does not proceed from the Session, the defects cannot, with propriety, be charged to the hurry with which the business has been conducted: [strikeout] [inserted: Yet], many things may be forgot - some of them not well digested - and others become a mere nullity. - [strikeout] [inserted: Notwithstanding which] I wish a disposition may be found in Congress - the several States Legislatures - and the community at large to adopt the Government which may be agreed on in Convention; because I am fully persuaded it is the best that can be obtained at the present moment, under such diversity of ideas as prevail. -
I should have had great pleasure in a visit to New York during the adjournment of the Convention, but not foreseeing the precise period at which it would take place, or the length of it; I had, previously there to, put my carriage into the hands of a workman to repair, and had not the means of going
I condole very sincerely with Mrs. Knox & yourself on your late misfortune; but am sure, however severe the trial, each of you have fortitude enough to meet it. - Nature, no doubt, must feel severely before calm resignation will overcome it. - I offer my best respects [2] respects to Mrs. Knox, and every good wish for the family - with great Regard & unfeigned affectn.
I am Yours
Go: Washington

[docket]
Genl Washington
19 Augt 1787 -
Recd 24 -
Original
No 1 -

[address]
The Honble
Majr. Genl Knox
New York
Go: WashingtonSee More
People: Knox, Henry, 1750-1806
Washington, George, 1732-1799

Historical Era: The New Nation, 1783-1815
Subjects: PresidentGovernment and CivicsUS ConstitutionUS Constitutional ConventionRatificationTransportationDeathChildren and Family
Sub Era: Creating a New Government