Knox, Henry (1750-1806) to Thomas Jefferson
High-resolution images are available to schools and libraries via subscription to American History, 1493-1943. Check to see if your school or library already has a subscription. Or click here for more information. You may also order a pdf of the image from us here.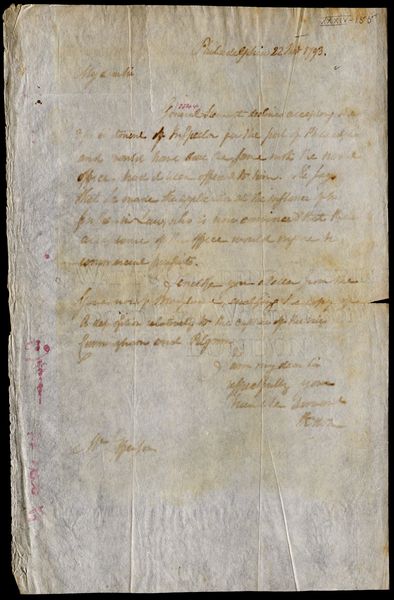 A high-resolution version of this object is available for registered users. LOG IN
Gilder Lehrman Collection #: GLC02437.10285 Author/Creator: Knox, Henry (1750-1806) Place Written: Philadelphia, Pennsylvania Type: Autograph letter signed Date: 22 November 1793 Pagination: 1 p. ; 37.6 x 24.3 cm.
Summary of Content: Informs Jefferson that "General Stewart declines accepting the appointment of Inspector for the port of Philadelphia and would have done the same with the naval office had it been offered to him. He says that he made the application at the influnce [sic] of his father-in Law, who is now convinced that the acceptance of the office would injure his commercial pursuits." Goes on to say that he enclosed "a letter from the Governor of Maryland" concerning "the capture of the brigs Cunningham and Pilgrim." Watermarked "J Watt & C Patent Copying/Sold By J Woodmason/London." Letterpress copy.
Background Information: General Stewart possibly refers to Daniel Stewart, a brigadier general in the Georgia Militia. He served during the American Revolutionary War and the War of 1812 and was the great-grandfather of ...Theodore Roosevelt.
See More
Full Transcript: Philadelphia 22 Nov 1793
My Dear Sir
General Stewart declines accepting the appointment of Inspector for the port of Philadelphia and would have done the same with the naval office had it ...been offered to him. He says he that he made the application at the instance of his father in-Law, who is now convinced that the acceptance of the office would injure his commercial pursuits.
I enclose you a letter from the Governor of Maryland, enclosing the copy of a deposition relatively to the capture of the brigs Cunningham and Pilgrim.
I am my dear Sir
respectfully your
humble servant
HKnox
Mr Jefferson
See More
People: Knox, Henry, 1750-1806
Jefferson, Thomas, 1743-1826
Stewart, Daniel, 1761-1829

Historical Era: The New Nation, 1783-1815
Subjects: Office SeekerGovernment and CivicsMaritimeChildren and FamilyCommerceMerchants and TradePrivateeringPresidentVice President
Sub Era: The Early Republic