Fagan, James Fleming (1828-1893) [Authorization for payment of a Posse Comitatus]
High-resolution images are available to schools and libraries via subscription to American History, 1493-1943. Check to see if your school or library already has a subscription. Or click here for more information. You may also request a pdf of the image from us here.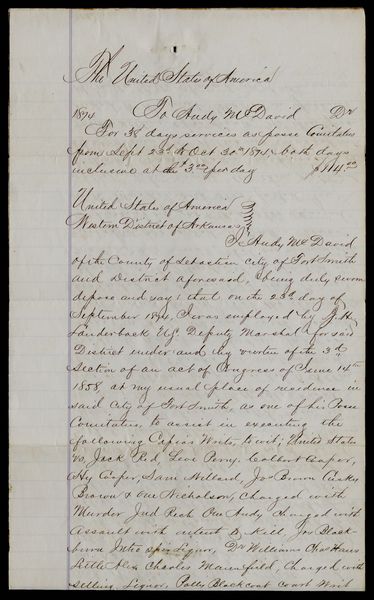 Summary of Content: Also signed by Andy McDavid and J.H. Lauderback. James Churchill and J.W. Harrul signed as clerks. John Speaker signed as a witness. Fagan, as the U.S. Marshal for the Western District of Arkansas, authorizes J.H. Lauderback to hire Andy McDavid to enact several arrests as a member of his Posse Comitatus. McDavid hired to arrest persons in the Indian Nation for murder, assault with intent to kill, open liquor, selling liquor, and larceny. McDavid details his travels through parts of Texas and Arkansas to perform arrests. Successful arrests include Polly Blackcoat and Andrew Jackson, known as "Our Andy." Lauderback states that employment of a Posse Comitatus is necessary; Fagan verifies Lauderback's claim.
Background Information: Lauderback and Speaker serve as witnesses for Fagan's statement. Posse Comitatus enabled Lauderback to summon able-bodied citizens to maintain public order.
Full Transcript: The United States of America

1874 To Andy McDavid Dr
For 38 days services as posse Comitatus from Sept 23d to Oct 30th 1874, both days inclusive at [struck: the] $3.00 per day $114.00

United ...States of America
Western District of Arkansas
I Andy McDavid of the County of Sebastian City of Fort Smith and District aforesaid, being duly sworn dispose and says: that on the 23d,, day of September 1874, I was employed by J.H. Lauderback U.S. Deputy Marshal for said District under, and by virtue of the 3d,, section of an act of Congress of June 14th 1858, at my usual place of residence in said City of Fort Smith, as one of his Posse Comitatus, to assist in executing the fallowing Copias Writs, to wit; United States vs. Jack Red, Levi Perry, Colbert Cooper, Sly Cooper, Sam Willard, Joe Brown Cusky Brown & one Nicholson, charged with Murder Jud Rich One Andy charged with assault with intent to kill, Jos Blackburn [illegible] [illegible] liquor, Dr Williams Chas Haus Little Alex Charles Mansfield, charged with selling liquor, Polly Blackcoat court Writ [2] is reasonable & just, and that I have no interest in the same,
JH Lauderback subscribed & sworn to before me this 18th day of Dec 1874, by the above named JH Lauderback U.S. Deputy Marshal who personally appeared, and was by me known to be the identical person he represents himself
James O. Churchill clerk
U.S. Dist Court West District Arks
By JW Farrut D.C.
I James F Fagan Marshal for the Western Dist of Arkansas, do certify that I have carefully enquired into the matters set forth, in the aforegoing affidavit, and that the matters & things therein set forth are true, and the service of the Posse Comitatus employed by my Deputy, was absolutely necessary to the due & proper services and execution of said writs, and that a posse Comitatus could not have been employed or obtain and nearer then the place where said Posse Comitatus was employed
J.J. Fagan
US. Marshal
Received of James F. Fagan United States Marshal for the West Dist of Arks the sum of One Hundred and Fourteen Dollars, in full of the within
witnesses
J.H. Lauderback Andy [inserted: his mark] X McDavid
[John] Speaker
[3] Failing to effect the arrest of either of the three last named parties,
WE immediately thereafter proceeded to McAlisters station in pursuit of Colbert Cooper Henry Cooper & Ian Willard, all charged with murder, failing to make their arrest, We proceeded to Boggy Depot in pursuit of Jno Brown, Jos Brown, Cusky Brown, & One Nicholson, all charged with murder but also failed in making their arrest We then returned to [illegible] Texas, in pursuit of Jos Blackburn charged with Introducing & selling Liquor in the nation but failed in effecting his arrest, We then proceeded to McKenney Texas, and tried to effect the arrest of W.A.Barker charged with larceny, and Jud Rich charged with assault with intent to kill, failing to arrest the above named parties We returned to the Choctaw Nation in pursuit of Little Alex, charged with the same offense. We immediately thereafter returned to Fort Smith Arks, with Defendants Polly Blackcoat and Andrew Jackson Alias One Andy, by the most direct route, That no posse Comitatus could not have [4] and W.H. Barker Taylor Potts and One Katimer charged with Larceny, all of which crimes were committed in the Indian Country, returnable to the office of the U.S. Commissioner at Fort Smith Sebastian County Arkansas, and that as such posse Comitatus, I proceeded immediately in company with said Deputy [struck: United States] Marshal to Division Texas, and I there assisted him in making the arrest of Polly Blackcoat, and from thense we proceeded to Allen bayou in the Chickasaw nation, and made the arrest of Andrew Jackson alias One Andy, charged with assault with intent to Kill, that the thereafter proceeded in pursuit of Live Perry, charged with Murder, but failed in making his arrest, that we immediately thereafter proceeded to Dallas Texas, in pursuit of Jack Red also charged with Murder, but also failed in effecting his arrest, we then returned to Atoka Choctaw Nation, in pursuit of Chas Haus & Dr Williams, charged with Intro & selling spir Liquor, We then proceeded to Durant Station in pursuit of Taylor Potts charged with Larceny [5] been employed at a nearer point to the place where the paid Deputy, informed we [strikeout] expected to make the arrect of defendants aforementioned to wit; Division Texas, than my place of residence aforesaid, that I actually traveled from my paid residence to said place of arrest, and in pursuit of the aforesaid parties for the purpose aforesaid miles and in the transportation of said Polly Blackcoat & Andrew Jackson alias One Andy, and was actually and necessarily empayed 38 days as set out in the foregoing account as posse Comitatus, solely in the execution of said processes, and transportation of said Polly Blackcoat & Andrew Jackson alias One Andy, as aforesaid that I furnished the means of or actually paid for my own traveler transportation and that I have received from said Marshal and signed duplicate receipts therefore the sum of One Hundred and Fourteen Dollars, in lawful currency of the U.S. in full satisfaction and payment of my expanses and services, that I have never received or been paid any or either compensation or remuneration or consideration [6] whatever for said expenses + 38 days services from any person or persons or sources whatever, so help me God
Andy [inserted: his] X McDavid
Sworn and subscribed to before e this 18th day of December 1874, by the above named Andy McDavid; who personally appeared
James O Churchill Clerk
U.S. Dist Court West Dist Arks
By J.M. Farrut D.C.
United States of America
Western District of Arkansas
I, J.H. Lauderback do solemnly swear, that I am duly & regularly commissioned as a Deputy U.S. Marshal for said District, that the employment of a posse Comitatus at Fort Smith Arkansas under the act of Congress of June 14th 1858, was actually and indispensably necessary to enable me to serve the warrants, in my possession and that I could not without great peril have attempted to serve the warrants intrusted to me, That I have examined the within account and certify that service were performed and actually rendered, as threin stated, and that the amount charged [7] is reasonable & just, and that I have no interest in the same,
JH Lauderback
Subscribed & sworn to before me this 18th day of Dec 1814, by the above named JH Lauderback, U.S. Deputy Marshal who personally appeared, and was by me known to be the identical person he represents himself
James O.Churchill Clerk
U.S. Dist Court West Dist Arks
By J.M. Farrut D.C.

I James F. Fagan Marshal for the Western Dist of Arkansas, do certify that I have carefully enquire into the matters set forth, in the aforegoing affidavit, and that the matters & things therein set forth are true, and the service of the Posse Comitatus employed by my Deputy, was absolutely necessary to the duc & proper services and execution of said writs, and that a posse Comitatus could not have been employed or obtain any nearer than the place where said posse Comitatus was employed
J.F. Fagan
US. Marshal
[8] Received of James F. Fagan United States Marshal for the Western Dist of Arks the sum of One Hundred and Fourteen Dollars, in full of the within,
Witnesses Andrew [inserted: his mark] X McDavid

J.H. Lauderback
[illegible] Speaker

[docket]
Voucher No 56
To
Andy Mc David
Abstract No 6
Lauderback
See More
People: Fagan, James, 1828-1893
Lauderback, J.H., fl. 1874
McDavid, Andy, fl. 1874
Churchill, James, fl. 1874
Harrul, J.W., fl. 1874
Speaker, John, fl. 1874
Jackson, Andrew, 1767-1845

Historical Era: Civil War and Reconstruction, 1861-1877
Subjects: American Indian HistoryFrontiers and ExplorationWestward ExpansionLawCrimeCriminals and OutlawsAlcoholTexasAmerican WestWomen's HistoryFinanceGovernment and CivicsPrisoner
Sub Era: Reconstruction