Buchanan, James (1791-1868) to Peter Wager
High-resolution images are available to schools and libraries via subscription to American History, 1493-1943. Check to see if your school or library already has a subscription. Or click here for more information. You may also order a pdf of the image from us here.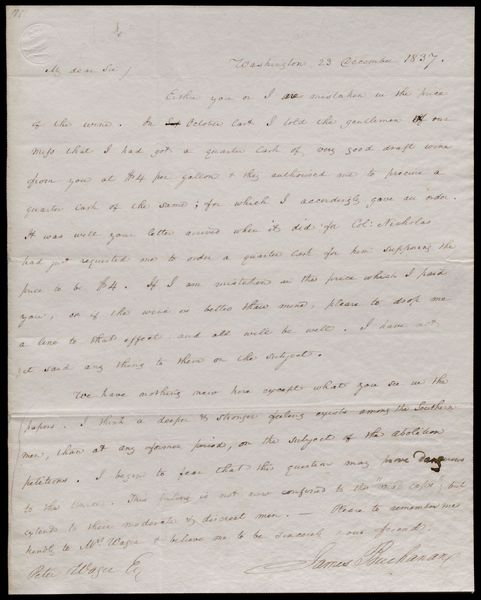 A high-resolution version of this object is available for registered users. LOG IN
Gilder Lehrman Collection #: GLC02949 Author/Creator: Buchanan, James (1791-1868) Place Written: Washington, D.C. Type: Autograph letter signed Date: 23 December 1837 Pagination: 1 p. : address : docket : free frank ; 24.8 x 19.6 cm.
Summary of Content: Buchanan writes as a United States Senator from Pennsylvania. Discusses a possible mistake regarding the price of wine he ordered from Wager. Writes, "We have nothing new here except what you see in the papers. I think a deeper & stronger feeling exists among the southern men, than at any former period, on the subject of the abolition petitions. I begin to fear that the question may prove dangerous to the Union."
Background Information: Buchanan served as President of the United States 1857-1861. Peter Wager was the son of Philip Wager, a Philadelphia wine merchant.
Full Transcript: Washington 23 December 1837.
My dear Sir,
Either you or I are mistaken in the price of the wine. In [struck: Sep] October last I told the gentlemen of our [Miss] that ...I had got a quarter Cask of very good draft wine from you at $4 per gallon & they authorised me to procure a quarter Cask of the same; for which I accordingly gave an order. It was well your letter arrived when it did: for Col: Nicholas had just requested me to order a quarter Cask for him supposing the price to be $4. If I am mistaken in the price which I paid you, or if the wine is better than mine, please to drop me a line to that effect: and all will be well. I have not yet said any thing to them on the subject.
We have nothing new here except what you see in the papers. I think a deeper & stronger feeling exists among the Southern men, than at any former period, on the subject of the abolition petition. I begin to fear that the question may prove dangerous to the Union. This feeling is not now confined to the "mad caps"; but extend to their moderate & discreet men. - Please to remember me kindly to Mrs. Wager - & believe me to be sincerely your friend,
James Buchanan
Peter Wager Esqr.

[address]
Peter Wager Esquire
Philadelphia

[docket]
James Buchanan
Recd. December 26th 1832.

[free frank]
Free
James Buchanan
See More
People: Wager, Peter, fl. 1837
Buchanan, James, 1791-1868

Historical Era: National Expansion and Reform, 1815-1860
Subjects: African American HistorySlaveryPresidentAlcoholFinanceMerchants and TradeCommerceAbolitionCongress
Sub Era: Age of Jackson