Nanfan, John (fl. 1688-1702) to Robert Livingston re: Parliamentary hearing on Capt. Kidd's Commission
High-resolution images are available to schools and libraries via subscription to American History, 1493-1943. Check to see if your school or library already has a subscription. Or click here for more information. You may also order a pdf of the image from us here.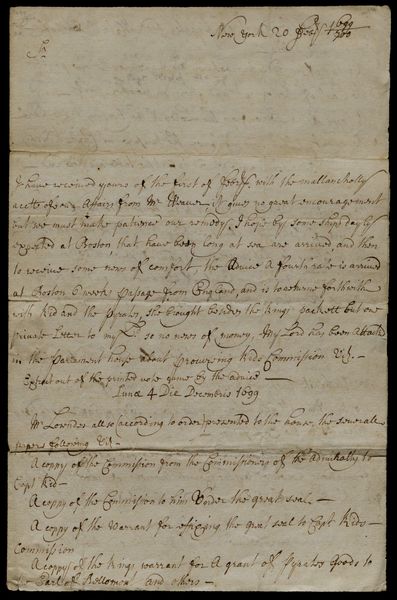 A high-resolution version of this object is available for registered users. LOG IN
Gilder Lehrman Collection #: GLC03107.00599 Author/Creator: Nanfan, John (fl. 1688-1702) Place Written: New York, New York Type: Autograph letter signed Date: 1700/02/20 Pagination: 3 p. + addr. 30.1 x 19.7 cm
Nanfan writes to forward news of the Parliamentary hearings discussing the Commission of Captain Kidd. According to Nanfan, who includes a transcribed copy of the minutes of the Parliamentary Committee detailed to investigate this Commission, the Earl of Bellomont was charged and testified in the case. Bellomont, in Nanfan's words, "was cleared by a very great majority consequently with a great deal of honnour." The issue of Major John Schuyler's military excursion to Canada was raised, with Nanfan reminding Livingston of the illegality of "transportation of horses and mares to Cannada without order." Finally, Nanfan writes that "I cannot but remind you pray lett no encouragement be wanting to our Indians" in an effort to prevent the French from gaining influence and powerful allies in the region. Docketed on address leaf.
New York, 20 Feby 1699
1700
Sr
I have received yours of the first of febry with the mallancholly acctt of our Affairs from Mr Weaver, it gives no great encouragement but we must make patience our remedy. I hope by some ships dayly reported at Boston, that have been long at sea are arrived, and then to receive some news of comfort, the Advice a fourth rate is arrived at Boston 6 weeks passage from England, and is to returne forthwith with Kid and the pyrates, she brought besides the kings packett but one private Letter to my Ld. so no news of money, My Lord has been attacked in the Parlament house about procuring Kids Commission Viz. -
Extract out of the printed note came by the advice -
Lunce 4 Die Decembris 1699
Mr Lowndes allso (according to order) presented to the house the severall papers following Viz -
A coppy of the Commission from the Commissioners of the Admiralty to Capt Kid -
A coppy of the Commission to him Under the great seal -
A coppy of the Warrant for [effixing] the great seal to Capt. Kids - Commission
A coppy of the Kings warrant for A grant of Pyrates Goods to the Earl of Bellomont and others -
[2] A coppy of the Grant of Pyrates goods etc. to the Earl of Bellomont and others -
A coppy of the indenture between his Majesty on the one part, and the Earl of Bellomont and others on the other part -
A Coppy of the Letter from the Lords of the treasury to the Earl of Bellomont, about sending over the treasure in Capt Kids ship
And the same ware deliverd in [struck: to] at the table and there read-
Mr Secretary Vernon presented to the house A coppy of A letter to the Earl of Bellomont about seizing Kid, and of severall other Letters relateing to that matter, and of severall letters and - papers received from the Earl of Bellomont, and of A petition of the old East India Compy., presented and read the 21 of [Febr] 1699-
And the same ware deliver'd in at the table and the tithes thereof read - Mr Blathwaite presented to the house an abstract of representations made by [March] and others, in the years 1697 & 1698- relateing to piracies in the East Indies-
An Acctt. of what Capt Kid has done Abroad (according to the information received by the Commissioners of trade and plantations from the Earle of Bellomont and otherwise,) and what has been don thereupon.
And the same ware deliverd in at the table and the tithes thereof read -
[3]Ordered that the Consideration of the papers this day deliverd in at the table, be referrd to the Committee of the whole house to Consider further of the Condition of the trade of England -
Resolved that this house will upon Wednesday morning [next] resolve it self into A Committee of the whole house to consider further of the state and Condition of the trade of England -
But since as my Lord writes me the Question being put he was cleared by [avery] great Majority consequently with A great deal of honnour. I hope there has been no foule means used with that pass I gave to [inserted: the Mayor] John Schuyler etc. to go to Cannada here are very ill reports of it in Towne, but I have now written to Coll - Schuyler to demand that pass and send it me by the first convey[text loss: ance] that I may be sattisfied of the truth of that Matter, I allso send him A minute of Councell of the 16th Inst more strictly worded then the former, of the one & twentith december, to present the transportation of horses and Mares to Cannada without order, I cannot but reminde you pray lett no encouragement be wanting to our Indians, I heartily wish you and your family all health and prosperity and am
Sr
Your Very Affectionate freind & servt
John Nanfan
[docket]
Mannor of Livingston 22 March 1699
700
Capt nanfan ye Leut. governours
Letter for NYork with
ye minute of Parlament and [illegible: Mr] Kid
[address]
To Robt Livingston Esqu -
of his Majesties honble-
Att
Albany -