Hoover, Herbert (1874-1964) to Louis L. Emmerson
High-resolution images are available to schools and libraries via subscription to American History, 1493-1943. Check to see if your school or library already has a subscription. Or click here for more information. You may also order a pdf of the image from us here.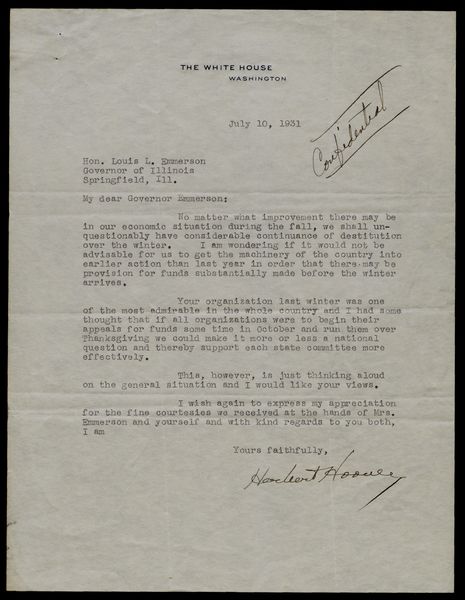 A high-resolution version of this object is available for registered users. LOG IN
Gilder Lehrman Collection #: GLC03146 Author/Creator: Hoover, Herbert (1874-1964) Place Written: Washington, D.C. Type: Typed letter signed Date: 10 July 1931 Pagination: 1 p. ; 26.5 x 20.2 cm.
Summary of Content: Confidential letter written to the Governor of Illinois about America's economic situation during the Great Depression and the prospect of continued destitution. Praises Emmerson's "organization last winter" and discusses the need for earlier appropriations of federal money to the states. Typed on White House stationery.
Full Transcript: July 10, 1931 Confidential
Hon. Louis L. Emmerson
Governor of Illinois
Springfield, Ill.

My dear Governor Emmerson:

No matter what improvement there may be in our economic situation during the fall, we ...shall unquestionably have considerable continuance of destitution over the winter. I am wondering if it would not be advisable for us to get the machinery of the country into earlier action than last year in order that there may be provision for funds substantially made before the winter arrives.

Your organization last winter was one of the most admirable in the whole country and I had some thought that if all organizations were to begin their appeals for funds some time in October and run them over Thanksgiving we could make it more or less a national question and thereby support each state committee more effectively.

This, however, is just thinking aloud on the general situation and I would like your views.

I wish again to express my appreciation for the fine courtesies we received at the hands of Mrs. Emmerson and yourself and with kind regards to you both, I am
Yours faithfully,
Herbert HooverSee More
People: Hoover, Herbert, 1874-1964
Emmerson, Louis L. (Louis Lincoln), 1863-1941

Historical Era: Great Depression and World War II, 1929-1945
Subjects: Great DepressionPresidentEconomicsPovertyGovernment and CivicsFinance
Sub Era: The Great Depression