Roosevelt, Franklin D. (1882-1945) [Press release of speech delivered on Memorial Day at Gettysburg, Pennsylvania]
High-resolution images are available to schools and libraries via subscription to American History, 1493-1943. Check to see if your school or library already has a subscription. Or click here for more information. You may also order a pdf of the image from us here.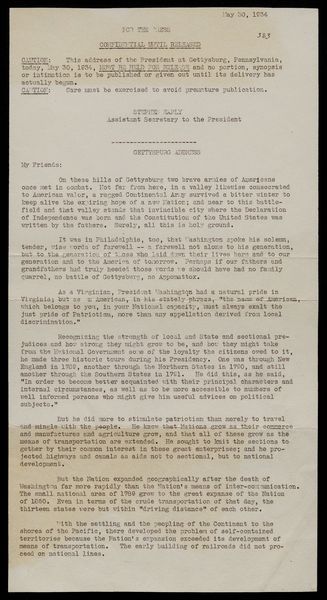 A high-resolution version of this object is available for registered users. LOG IN
Gilder Lehrman Collection #: GLC03352 Author/Creator: Roosevelt, Franklin D. (1882-1945) Place Written: Gettysburg, Pennsylvania Type: Typed document signed Date: 30 May 1934 Pagination: 2 p. ; 34 x 18 cm.
Summary of Content: Signed at end as President. Speech mentions the Civil War Battle of Gettysburg and Valley Forge during the Revolutionary War. Stresses the importance of uniting the country. Gives particular attention to the part played by George Washington as Continental Commander-in-Chief, president of the Constitutional Convention, and President of the United States. Calls upon Americans to heal "ancient passions" and not to begrudge benefits to other regions and individuals. Marked "Confidential until Released," by Stephen Early, Assistant Secretary to the President.
Background Information: Roosevelt delivered this speech on Memorial Day on the Gettysburg battlefield to a crowd estimated to be between 50,000 and 100,000. He was the first Democrat chief executive to speak at the ...battlefield as per newspaper clippings on file.See More
People: Roosevelt, Franklin Delano, 1882-1945
Washington, George, 1732-1799

Historical Era: Great Depression and World War II, 1929-1945
Subjects: PresidentPresidential Speeches and ProclamationsHolidays and CelebrationsBattleBattle of GettysburgValley ForgePresidents Discussing PresidentsCivil WarRevolutionary WarGreat DepressionUS ConstitutionUS Constitutional ConventionMilitary History
Sub Era: The Great Depression