Pickering, Timothy (1745-1829) [Pickering's letterbook]
High-resolution images are available to schools and libraries via subscription to American History, 1493-1943. Check to see if your school or library already has a subscription. Or click here for more information. You may also order a pdf of the image from us here.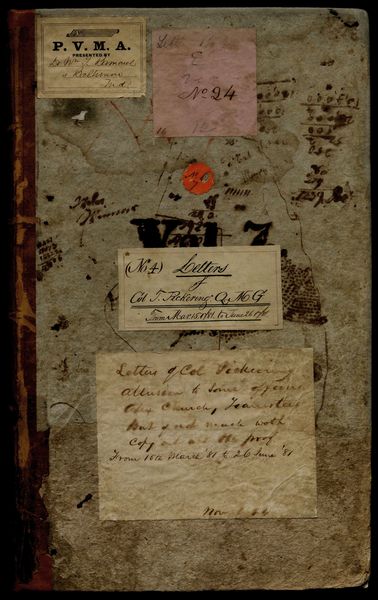 A high-resolution version of this object is available for registered users. LOG IN
Gilder Lehrman Collection #: GLC03425 Author/Creator: Pickering, Timothy (1745-1829) Place Written: s.l. Type: Autograph manuscript Date: 15 March 1781- 9 May 1782 Pagination: 1 v. : 264 p. ; 33.2 x 20.5 cm.
Summary of Content: Inventory attached. Contains two alphabetical lists of recipient's names. One eight page list is attached to the inner front cover by string and measures 23.2 x 19 cm. The other list is bound in as part of the letterbook. Contains letters to George Washington, Thomas Jefferson, and Baron von Steuben, among various others. Letters within this book were created in various locations, and most were written by Pickering. The last, written to Pickering, is attached to the inner back cover. Includes an envelope attached to the inner front cover containing a transmission letter dated 30 January 1882 to George Sheldon of Deerfield, Massachusetts (possibly a Deerfield historian). Though the signature on this letter is illegible, the sender mentions that he transmits this letterbook as "a contribution to the old records in Memorial Hall." States that this book is one of several he transmits, and mentions to Sheldon that there is an immense amount of Revolutionary War documentation in the records of the War Department, but that he can not obtain access to this documentation because his connection with that department has been severed. Promises to send "a photographic copy of some letters found on [Lewis] Payne, the would be assassin of Mr. Seward & a coadjutor of John Wilkes Booth: the original came into my possession while in the War Department and I had a few copies stricken off." The outside of the envelope states "Kindness of Mrs. Jenks." Sender writes from Baltimore, Maryland. Transmission letter is housed with letterbook.
Background Information: Pickering was appointed Quartermaster of the Army in 1780. William Henry Seward served as Secretary of State under Presidents Abraham Lincoln and Andrew Johnson. Seward survived an assassination attempt on 14 April 1865 (...the same night Abraham Lincoln was killed) from Lewis Powell (alias Lewis Payne). Deerfield's Memorial Hall opened in 1880 based on the efforts of Sheldon, an antiquarian.See More
Full Transcript: [Letter to General George Washington, 18 February 1781]
[62]…The greatest difficulty that I foresee will be impressing the teams & horses with proper dispatch & punctuality, for want of dragoons…

[Letter to the Marquis ...de Lafayette, 25 February 1781]
[63]…Last evening the President of Congress rec.d dispatches from Virginia informing of the arrival there of the French Ships detached from Rhode Island. Copies the President sends by this Express to Genl Washington…

[Letter to governors Thomas Jefferson and Thomas S. Lee, 1 March 1781]
[81] …I imagine you have been apprized that an expedition is on foot, destined against the force under Arnold at Portsmouth. …[83]…The events of war too are uncertain, & the enterprize may not be finished so Soon as expected. Give me leave therefore to request your Excellency to cause the State agents to procure without delay beef, pork or bacon Sufficient fir 2000 men twenty days…"

[Letter to Ralph Pomeroy, 7 May 1781]
[116]…Last night and this day I have received from the commander in chief the most alarming account of the general want of provisions, particularly of meat. The troops on the frontiers of this State are on the point of mutinying and the garrison of fort Schuyler of abandoning that post. "This (says the General) makes the transportation of the whole of the Salted provisions on the west Side of Connecticut river immediately and indispensably necessary."

[Letter to General William Heath, 11 May 1781]
[132]…with people so utterly regardless of the most essential interests of their country it was apparent that nothing save military force would have [133] any operation…

[Letter to General George Washington, 8 June 1781]
[215]…I am Sorry to inform your Excellency that I have discovered too much languor in the various artificers employed in this department. It is 18 months Since they received any pay. Most of them have families. They have been distressed for cloathing. They get [216] no rum. They seem to be dejected & discouraged…
See More
People: Pickering, Timothy, 1745-1829
Sheldon, George, fl. 1880-1896
Steuben, Friedrich Wilhelm Ludolf Gerhard Augustin, Baron von, 1730-1794
Washington, George, 1732-1799
Jefferson, Thomas, 1743-1826
Payne, Lewis, 1845-1865
Seward, William Henry, 1801-1872

Historical Era: American Revolution, 1763-1783
Subjects: Revolutionary WarRevolutionary War GeneralMilitary HistoryLetterbookPresidentGovernment and CivicsLincoln AssassinationAssassinationCriminals and OutlawsAmerican Statesmen
Sub Era: The War for Independence