Ringgold, Cadwalader (1802-1867) to Hugh Max[ rick?]
High-resolution images are available to schools and libraries via subscription to American History, 1493-1943. Check to see if your school or library already has a subscription. Or click here for more information. You may also request a pdf of the image from us here.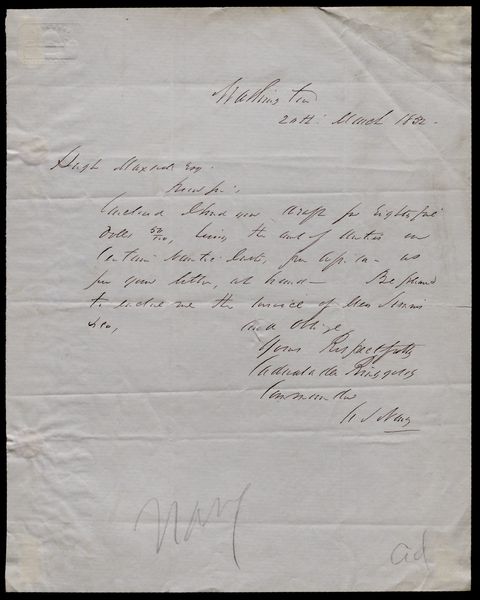 Summary of Content: Written by Commander Ringgold to a man with an illegible last name. The handwriting is hard to read, but it appears that Ringgold is sending $18.50 for nautical charts.
Background Information: Cadwalader Ringgold entered the U.S. Navy in 1819 and commanded the schooner Weazel in action against West Indies pirates during the late 1820s. He became a lieutenant May 17, 1828 and that ...year served on the Vandalia in the Pacific. He went on to serve on the Adams in the Mediterranean. During 1838-42, he participated in the Wilkes Expedition in the Pacific, commanding the Porpoise from 1840 at the invitation of the head of the project, Charles Wilkes. When the expedition visited Fiji, they captured Vendoni, a chief on the islands who had inspired some Fijians to capture and eat 11 crewmen on a ship seven years before.[3] Soon afterward, Fijians on the island of Malolo ambushed and killed two popular officers of the expedition, and the Americans took revenge. Wilkes' ship grounded on the north side of the island, but Ringgold led 80 men from the south side. Women and children were spared, but about 87 Fijians were killed before the rest surrendered. Two villages were destroyed. In 1853 he took command of the North Pacific Exploring and Surveying Expedition, also known as the Rodgers-Ringgold Expedition. He also served in the Civil War and retired as a rear admiral.See More
People:
Historical Era: National Expansion and Reform, 1815-1860
Subjects: Military HistoryNavyFinanceMaritime
Sub Era: