Lincoln, Mary Todd (1818-1882) to James Orne
High-resolution images are available to schools and libraries via subscription to American History, 1493-1943. Check to see if your school or library already has a subscription. Or click here for more information. You may also request a pdf of the image from us here.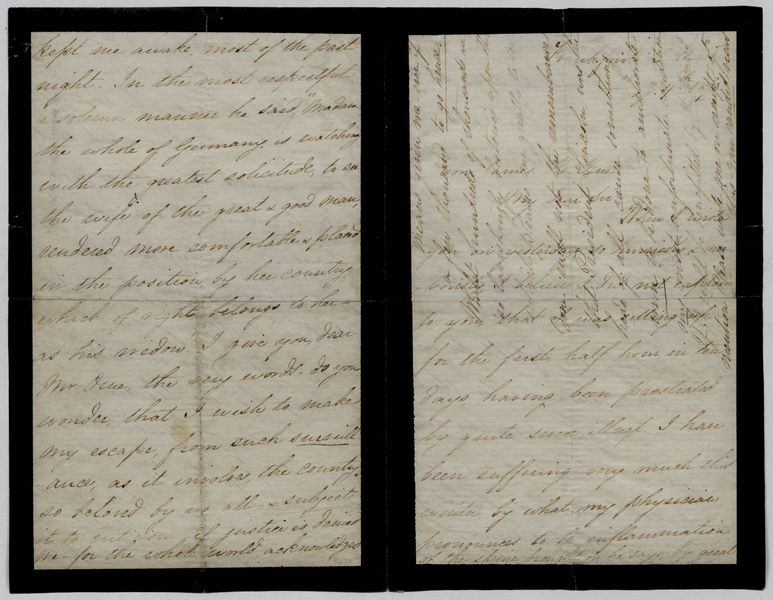 A high-resolution version of this object is available for registered users. LOG IN or SUBSCRIBE
Summary of Content: Writes that she has been suffering from an illness this winter which her doctor believes is an inflammation of the spine brought on by great mental stress. He has advised her to go south, but she admits candidly that she does not have to money to do so. Describes the pain she is experiencing and her fear that she will lose the ability to walk. Comments shamefully that with her small means, she can only stay in second class boarding houses. Observes that the doctor told her that all of Germany would like to see the wife of such a great man put in a more comfortable position; bitterly remarks that her husband's service to the country has not been rewarded. Begs Orne to use his influence to have her affairs settled and get her some money so that she may travel to a milder climate. Requests that he keep this letter private. Written on mourning stationery with cross-writing on pages one and three.
Background Information: Mary Todd Lincoln traveled to Europe in 1868 with her son Thomas Lincoln (Taddie) in search of good health. She battled for her pension and finally received it in 1870, then returned ...to America in 1871.See More
People: Lincoln, Mary Todd, 1818-1882
Orne, James H., fl. 1870
Lincoln, Abraham, 1809-1865

Historical Era: Civil War and Reconstruction, 1861-1877
Subjects: Woman AuthorWomen's HistoryFirst LadyHealth and MedicalFinanceTravelLandlord and TenantLincoln AssassinationPresidentGlobal History and US Foreign PolicyGlobal History and US Foreign PolicyGovernment and Civics
Sub Era: Reconstruction