Hancock, John (1737-1793) to John Barry
High-resolution images are available to schools and libraries via subscription to American History, 1493-1943. Check to see if your school or library already has a subscription. Or click here for more information. You may also order a pdf of the image from us here.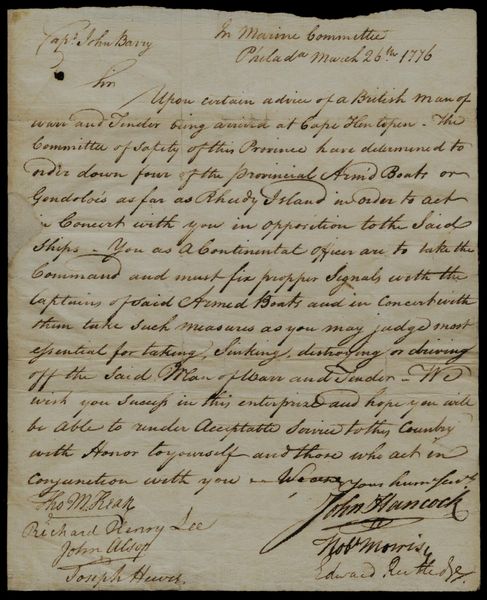 A high-resolution version of this object is available for registered users. LOG IN
Gilder Lehrman Collection #: GLC03714 Author/Creator: Hancock, John (1737-1793) Place Written: Philadelphia, Pennsylvania Type: Manuscript letter signed Date: 26 March 1776 Pagination: 1 p. : address : docket ; 23.3 x 18.7 cm.
Summary of Content: Hancock, Thomas McKean, Richard Henry Lee, John Alsop, Joseph Hewes, Robert Morris, and Edward Rutledge sign as members of the Marine Committee (all but Alsop went on to sign the Declaration of Independence). Hancock et al. inform Captain Barry that the Committee of Safety has ordered four provincial armed boats to assist Barry in "taking, sinking, destroying, or driving off" a British man of war. Instructs Barry, Captain of the Lexington, to coordinate signals with the vessels sent to assist him.
Full Transcript: In Marine Committee
Philada. March 26th. 1776
Capt. John Barry.
Sir
Upon certain advice of a British man of war and Tender being arrived at Cape Henlopen - the Committee of ...safety of this Province have determined to order down four of the provincial Arm'd Boats or Gondolois as far as Rhudy Island in order to act in Concert with you in opposition to the Said ships. You as a Continental officer are to take the Command and must fix propper [sic] Signals with the Captains of said Armed Boats and in concert with them take such measures as you may judge most essential for taking, Sinking, destroying or driving off the said Man of War and Tender. We wish you success in this enterprise and hope you will be able to render Acceptable Service to this Country with Honor to yourself and those who act in conjunction with you. We are your hum. Servts.

Tho McKean John Hancock
Richard Henry Lee Robt. Morris
John Alsop Edward Rutledge
Joseph Hewes


[Docket:]
Letter from the Marine Committee 1776

[Address:]
Capt. John Barry
of the Brigr. LexingtonSee More
People: Hancock, John, 1737-1797
McKean, Thomas, 1734-1817
Lee, Richard Henry, 1732-1794
Alsop, John, 1724-1794
Hewes, Joseph, 1730-1779
Morris, Robert, 1734-1806
Barry, John, 1745-1803

Historical Era: American Revolution, 1763-1783
Subjects: Revolutionary WarNavyMilitary HistoryCodes and SignalsGlobal History and US Foreign PolicyGlobal History and US Foreign PolicyRevolutionary War GeneralContinental CongressCongressMaritimeGovernment and Civics
Sub Era: The War for Independence