Hancock, John (1737-1793) to John Barry
High-resolution images are available to schools and libraries via subscription to American History, 1493-1943. Check to see if your school or library already has a subscription. Or click here for more information. You may also order a pdf of the image from us here.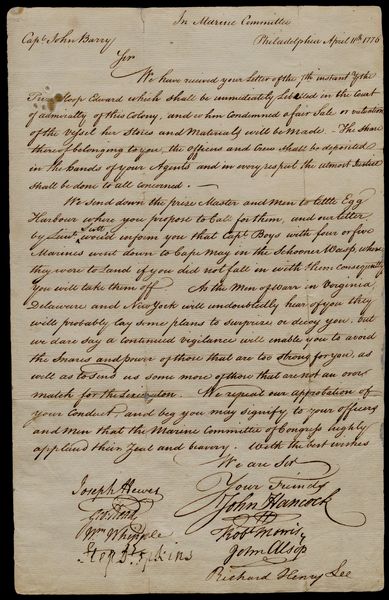 A high-resolution version of this object is available for registered users. LOG IN
Gilder Lehrman Collection #: GLC03715 Author/Creator: Hancock, John (1737-1793) Place Written: Philadelphia, Pennsylvania Type: Manuscript letter signed Date: 11 April 1776 Pagination: 1 p. : address : docket ; 31.3 x 20.1 cm.
Signed by members Hancock, Robert Morris, John Alsop, Richard Henry Lee, Joseph Hewes, George Read, William Whipple, and Stephen Hopkins as members of the Congressional Marine Committee (all but Alsop went on to sign the Declaration of Independence). The Committee praises Barry's capture of the prize sloop Edward. Mentions sending the prize to Little Egg Harbor, New Jersey. Reports on the presence of Captain Boys and four or five marines at Cape May, New Jersey. States "As the Men of Warr in Virginia, Delaware and New York will undoubtedly hear of you they will probably lay some plans to surprise or decoy you, but we dare say a continued vigilance will enable you to avoid the snares and power of those that are too strong for you, as well as to send us some more of those that are not an over match for the Lexington." The Committee repeats their approbation of Barry's conduct.
Barry was Commander of the brig Lexington.
In Marine Committee
Capt. John Barry Philadelphia April 11th. 1776
Sir
We have received your Letter of the 7th instant rf. the Prize Sloop Edward which shall be immediately Libelled in the Court of admiralty of this Colony, and when condemned a fair Sale or valuation of the vessel her stores and materials will be made. The share thereof belonging to you, the officers and crew shall be deposited in the hands of your Agents and in every respect the utmost justice shall be done to all concerned.
We send down the prize Master and Men to little Egg Harbour where you propose to call for them, and our letter by Leiut Scott wou'd inform you that Capt. Boys with four or five Marines went down to Cape May in the Schooner Wasp, where they were to land if you did not fall in with them consequently you will take them off. As the Men of Warr [sic] in Virginia, Delaware and New York will undoubtedly hear of you they will probably lay some plans to surprize or decoy you, but we dare say a continued vigilance will enable you to avoid the Snares and power of those that are too strong for you, as well as to send us some more of those that are not an over match for the Lexington. We repeat our approbation of your conduct, and beg you may signify to your officers and men that the marine committee of Congress highly applaud their Zeal and bravery. With the best wishes
We are Sir Your Friends
Joseph Hewes John Hancock
Geo: read Robt Morris
Wm. Whipple John Alsop
Steph. Hopkins Richard Henry Lee
[address]
To
John Barry Esquire
Brig Lexington
[docket]
Brig [Lexington]
April 1776