Burr, Aaron (1756-1836) [Divorce petition of Aaron Burr] [incomplete]
High-resolution images are available to schools and libraries via subscription to American History, 1493-1943. Check to see if your school or library already has a subscription. Or click here for more information. You may also request a pdf of the image from us here.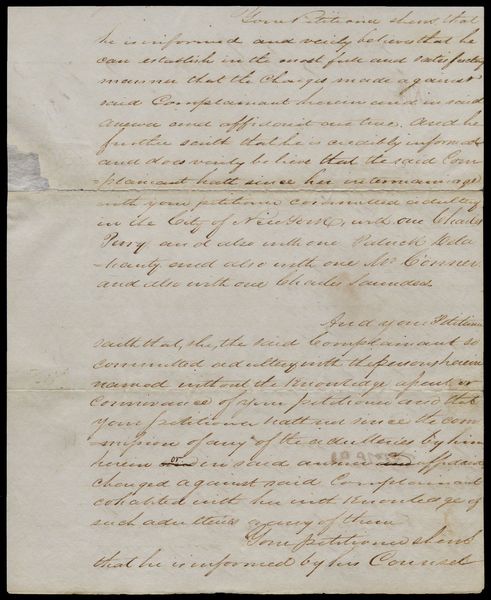 Summary of Content: Also signed by Charles O'Conner, Solicitor of Counsel for Burr. Certifies that the adultery charges against Burr's second wife, Eliza Jumel, can be proven. States that Mrs. Burr has committed adultery in the city of New York with Charles Perry, Patrick Delahanty, Mr. Conner, and Charles Saunders.
Background Information: In 1833, Burr married his second wife, the widow of Stephen Jumel. She realized her fortune was dwindling from Burr's land speculation and they separated after only four months. She sued ...for divorce which was granted the day he died, 14 September 1836.
See More
People: Burr, Aaron, 1756-1836
O'Conner, Charles, fl. 1835
Jumel, Mme. Eliza Bowen 1775?-1865

Historical Era: National Expansion and Reform, 1815-1860
Subjects: Vice PresidentMarriageWomen's HistoryLawCorruption and ScandalMorality and Ethics
Sub Era: Age of Jackson