King, Samuel Ward (1786-1851) [A proclamation by Samuel Ward King]
High-resolution images are available to schools and libraries via subscription to American History, 1493-1943. Check to see if your school or library already has a subscription. Or click here for more information. You may also order a pdf of the image from us here.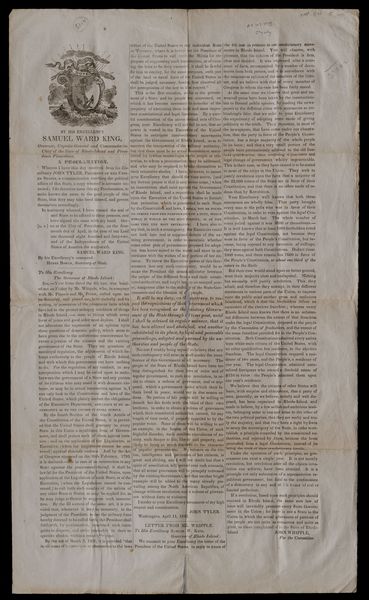 A high-resolution version of this object is available for registered users. LOG IN
Gilder Lehrman Collection #: GLC04161 Author/Creator: King, Samuel Ward (1786-1851) Place Written: Rhode Island Type: Broadside Date: March 1842 Pagination: 1 p. ; 50.5 x 30.5 cm.
Summary of Content: Contains a brief introduction by King as Governor, Captain-General and Commander-in-Chief of the State of Rhode Island and Providence Plantations. Includes a reprinted letter by President John Tyler stating that he cannot get involved (by raising a militia) with rising tensions in Rhode Island unless there is an actual insurrection. Also includes a reprinted letter from John Whipple discussing the People's Constitution (Dorr's constitution) and the "legal constitution" of Rhode Island.
Background Information: Samuel Ward King, governor of Rhode Island from 1839-1843. He took a strong stand against the expanded voting franchise that led to the Dorr rebellion. President John Tyler refused to ...send in Federal troops at Governor King's request to restrain the uprising. See More
People: Tyler, John, 1790-1862
King, Samuel Ward, 1786-1851
Whipple, John, 1784-1866

Historical Era: National Expansion and Reform, 1815-1860
Subjects: Dorr RebellionGovernment and CivicsLawRebellionMilitiaState Constitution
Sub Era: Age of Jackson