Kelly, James R. (fl. 1861-1862) to Mary Kelly
High-resolution images are available to schools and libraries via subscription to American History, 1493-1943. Check to see if your school or library already has a subscription. Or click here for more information. You may also order a pdf of the image from us here.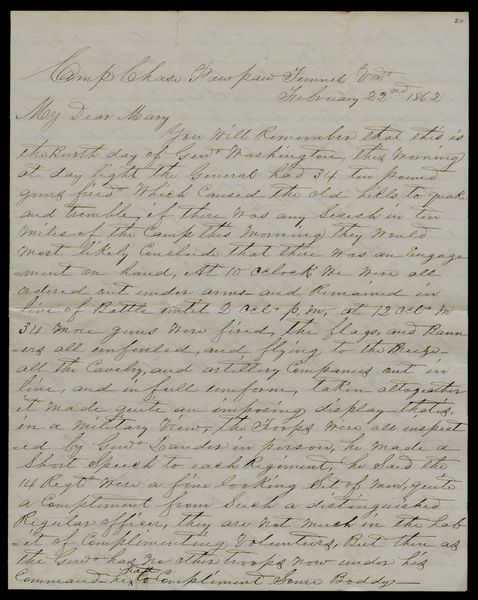 A high-resolution version of this object is available for registered users. LOG IN
Gilder Lehrman Collection #: GLC04197.20 Author/Creator: Kelly, James R. (fl. 1861-1862) Place Written: Virginia Type: Autograph letter signed Date: 1862/02/22 Pagination: 4 p. : envelope.
They fired two 34 gun salutes in honor of General Washington's Birthday. Discusses Union victories and his hopes that the Confederates will evacuate the area along the Potomac. He has not been paid since his "return."
Camp Chase Pawpaw Tunnel VA
February 22nd 1862
My Dear Mary
You will remember that this is the birthday of Gen. Washington. This morning at daylight the General had 34 ten pound guns fired, which caused the old hills to quake and tremble. If there was any Sesesh in ten miles of the Camp this morning they would most likely conclude that there was an engagement on hand. At 10 o'clock we were all ordered out under arms and Remained in line of Battle until 2 o'cl PM at 12 O'CL we 34 more guns were fired. The flags and banners all unfurled and flying to the Bridge. All the cavalry and artillery companies out in line and in full uniform. Taken altogether it made quite an imposing display. That is, in a military view. The troops were all inspected by Gen. Lander in person. He made a short speech to each regiment. He said the 14 Regt. were a fine looking set of men. Quite a compliment from such a distinguished Regular officer. They are not much in the habit of complimenting volunteers, but then as the Gen has no other troops now under his command he had to compliment somebody [sic]. When I wrote you last I was still quite unwell. I am much better now. Alexander has been quiet sick since I wrote you last, tho he is much better now, and I hope will be as well as ever in a few days. He had the Cramp cholic severely and I thought would die, before he was relieved. I told you that Col. Kimball had been sick. I am truly glad that he is getting well again, tho, Major Harrow is not well not. I don't think he has anything worse than a bad cold, in fact, that is all the complaint among the men, and that is bad enough. The accounts from Fort Donaldson and Missouri are fully confirmed. The Capture of Donaldson was a most glorious affair and also, that of Roanoak Island, and the best of all, is the Capture of Old Pierce and his Staff. It is still thought here that Davies will evacuate masses and all the strong holds on the lower Potomac. I hope to God he will and that Soon. If he does, that will end the war in Virginia. There is no Sessech troops now west of Winchester and that place is connected with Richmond and Manasses by Rail Road and can not be attacked Succesfully until Manasas itself is attacked, then it can be flanked and taken quite easily, but not until there is a movement along the whole line, that may take place soon, and it may not, I can't tell much about it, neither Banks or Lander are doing anything now, and, I don't think they will until a general movement takes place along the entire line, from this to Washington when that takes place you may expect to hear of Bloody, hot work on the Potomac. Nothing will present it but the Evacuation of Manassas and Richmond by Jeff Davis, which I hope to God he will be Compelled to do. Our Regiment has not been paid since my return to it. I can't tell why this is unless Uncle Sam is getting Short of funds. I would be glad if the Regiment could be paid once more. I am out of money and have been a long time. Would be glad to get a little money just now, tho I don't need much and intend to send the most of it to you when I get it. I received a letter today from the adjutant of the State of Indiana relative to the appointment of Major to our Regiment from what he tells me, Capt Foot will be the Major, not on account of Rank, but simply because he has company A and has the Right of the Regt. I hope you are all well at home and at Fathers. Love to all, more especially you and Siss.
Yours as Ever
J. R. Kelly