Kelly, James R. (fl. 1861-1862) to Mary Kelly
High-resolution images are available to schools and libraries via subscription to American History, 1493-1943. Check to see if your school or library already has a subscription. Or click here for more information. You may also order a pdf of the image from us here.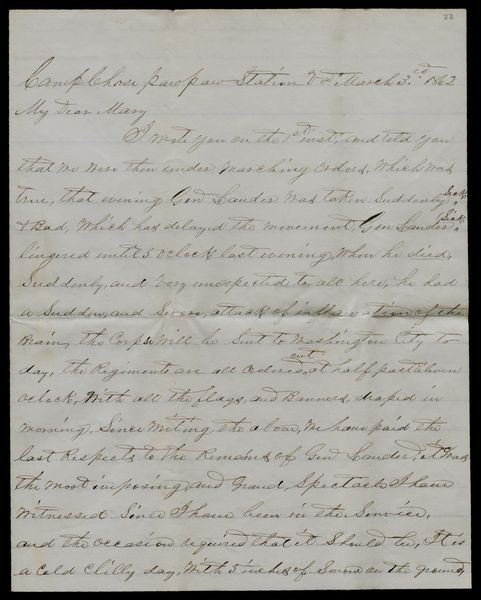 A high-resolution version of this object is available for registered users. LOG IN
Gilder Lehrman Collection #: GLC04197.22 Author/Creator: Kelly, James R. (fl. 1861-1862) Place Written: Virginia Type: Autograph letter signed Date: 1862/03/03 Pagination: 4 p.
General Lander's sudden illness and death from "inflammation of the Brain" delayed the regiment's marching orders. He offers a lengthy description of the funeral procession that escorted Lander' coffin to a train bound for Washington and adds his opinion of the man: "Our poor deceased Gen. . . . was not much liked by [struck: the] either the officers or men under [inserted: his] command. There can be no doubt that he was a true, patriotic, man, and a good officer in the Regular army. But I must say, & truth compells it, that he was a desperately profane, wicked man, arbitrary, and tiranical [sic] to the men, and officers under his command." He also mentions the general movement of various armies toward Winchester.
Camp Chase Pawpaw Station VA
March 3, 1862
My Dear Mary
I wrote you on the 1st inst and told you that we were then under marching orders, which was true, that evening Gen Lander was taken suddenly sick & bad, which has delayed the movement. Gen Lander lingered until 5 o'clock last evening when he died suddenly and very unexpected to all here. He had a sudden and sever attack of inflammation of the Brain. The Corps will be sent to Washington City today. The Regiments are all ordered out at half past Eleven o'clock with all the flags and Banners draped in morning. Since writing the above, we have paid the last Respects to the Remains of Gen Lander. It was the most imposing and Grad spectacle I have witnessed since I have been in the Service and the occasion required that it should be. It is a cold chilly day with 5 inches of snow on the ground and a slow Cold rain falling. We had 20 thousand men formed in close column and standing on the Cold ground in the Snow and water at least 2 hours. I was chilled through. The infantry 14 Regts were formed in two columns parallel with the Rail Road. The Cavalry, our full Regt. in front and the artillery, 4 full Batteries in the rear, all formed as close and compact as possible, leaving a Space of two paces between the two Columns of infantry through which the coffin with a beautiful flag wrapped around it, was born on the Shoulders of Officers in full uniform to the car that was waiting to receive it. The Coffin was followed by the Generals Staff & Boddy [sic] guard, with guns reversed in morning. There followed the field officers, the long ? lines on each side with arms presented. From the moment the Corps left headquarters minute guns were fired until the Train bearing it away was out of Sight, then each Regt was marched to quarters completely chilled with Cold, all hoping it would be a long time before the death of another General. Col. Kimball is now in full Command of all the troops here & there is at least 20 thousand in all, tho, the Col. Will not be in command many days. Gen Shields is ordered to take command of this division of the army at once and he is expected here tomorrow. The Same Gen Shields that was in the Mexican war & Since then in the Senate of the U.S.A. Our poop deceased Gen tho now gone to that ? whence no traveler returns, was not much liked by either the officers or ? his command. There can be no doubt that he was a true, patriotic man and a good officer in the Regular army, but then I must say & truth compels it, that he was a desperately profane, wicked man arbitrary and ? to the men and officers under his Command. I hope Gen Shields will suit the Command better and render himself more popular among the officers & men. You may expect to hear important news from here in the next two days. Gen McClelland is now at Charleston, 12 miles from Harper's Ferry on the Winchester Toad, with 30 thousand troops and Gen Banks has Crossed the Potomac at Martinsburg with his division 35 thousand strong and then we are ordered to Martinsburg with this division and would have been there now had it not been for the sickness and death of Gen Lander. I think it is now plain that there is a general movement now on hand from here to Washington. It is rumored in camp that Winchester has been evacuated and that the Sesesh troops have all gone to Manassas and Richmond. If Such is the fact there must be a bloody Battle fought at Some point in Eastern VA before long. I am well except a cold. I understand now that we go from here to Martinburg on the Rail Road and there take the pike to Winchester, which if true, will save us a long, hard march. I hope it is true. I sent Alexander to the Hospital at Cumberland yesterday. He was not able to March and it was the Best I could do for him. I think he will get well. He was able to walk to the cars when he left. The health of the Company is tolerable good. The appointment of Major has not been made yet. It is delayed a long time on some account. I have not had a letter from you for three weeks. Why is this? Can't you write? Write me by all means & don't forget. Love to all at home, especially you and Siss.
Ja R. Kelly