Washington, George (1732-1799) Inaugural address [leaf from 1st draft of discarded first inaugural = pp.49-50]
High-resolution images are available to schools and libraries via subscription to American History, 1493-1943. Check to see if your school or library already has a subscription. Or click here for more information. You may also order a pdf of the image from us here.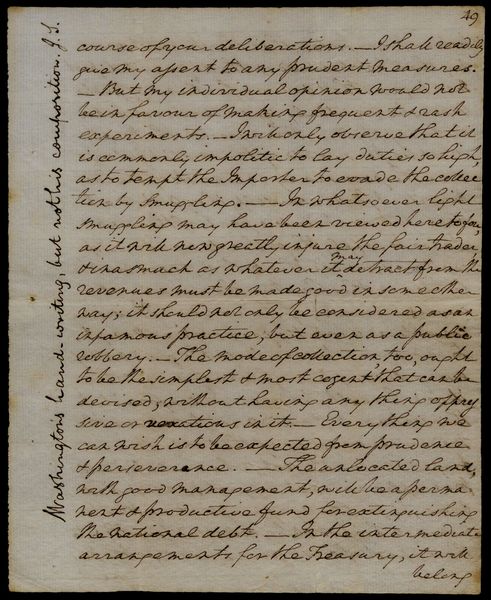 A high-resolution version of this object is available for registered users. LOG IN
Gilder Lehrman Collection #: GLC04443.01 Author/Creator: Washington, George (1732-1799) Place Written: [New York] Type: Autograph manuscript Date: [April 1789] Pagination: 2 p. = "49-50" 23 x 18.5 cm
Summary of Content: Concerning taxation and the national debt. This was a first draft which Washington later discarded. The manuscript was disassembled by Jared Sparks and leaves or clippings were given away as samples of GW's handwriting. Sparks regarded the document as unimportant since Washington had not actually used this draft. See other leaves: GLC 639.25 and 1589.
Background Information: Notes: Published in The Papers of George Washington, Vol 2: Presidential Series. edited by W. W. Abbot. Charlottesville: University Press of Virginia, YEAR], p.. Page 49 & 50 of Washington's draft. [notation in margin ...on first page: Washington's hand-writing, but not his composition. J.S.]

Signer of the U.S. Constitution.See More
Full Transcript:
…course of your deliberations.__ I shall readily give my assent to any prudent measures.__ But my individual opinion would not be in favour of making frequent & rash experiments.__ I will ...only observe that it is commonly impolitic to lay duties so high, as to tempt the Importer to evade the collection by smuggling.__ In whatsoever light smuggling [inserted: may] have been viewed heretofore, as it will now greatly injure the fair trader, & in as much as whatever it may detract from the revenues must be made good in some other way; it should not only be considered as an infamous practice, but even as a public robbery:__ The mode of collection, too, ought to be the simplest & most cogent that can be devised, without having anything oppressive or vexatious in it.__ Everything we can wish is to be expected from prudence & perseverance.__ The unlocated land, with good management, will be a permanent & productive fund for extinguishing the national debt.__ In the intermediate arrangements for the Treasury, it will [2] belong to you to see, that the strictest æconomy shall be observed in the different departments; and that not one farthing of public money be wantonly squandered or wickedly misapplied.__ Whensoever the People shall be persuaded of this watchfulness over the pecuniary interests of the Community, I flatter myself, they will most chearfully contribute a part of their substance to supply the public demands.__ Especially as, under this system, taxes must be lighter in this Country, than in any other civilized country of the world.__ It is in my conception, worth the pains of an attempt, to endeavour to conciliate the good will of every description of honest men, when it can honestly be done.__ In conformity to this sentiment, I could wish to relieve the tender consciences of that industrious, frugal & valuable sect, who are religiously principled against supporting an armed force, by faithfully appropriating the whole Monies which shall be collected from them, to the support of civil government, or the payment…
See More
People: Washington, George, 1732-1799

Historical Era: The New Nation, 1783-1815
Subjects: InaugurationInaugural AddressGovernment and CivicsPresidentPresidential Speeches and ProclamationsFinanceTaxes or TaxationDebt
Sub Era: The Early Republic