Stephens, Asbury L. (b. 1843) to Hat
High-resolution images are available to schools and libraries via subscription to American History, 1493-1943. Check to see if your school or library already has a subscription. Or click here for more information. You may also order a pdf of the image from us here.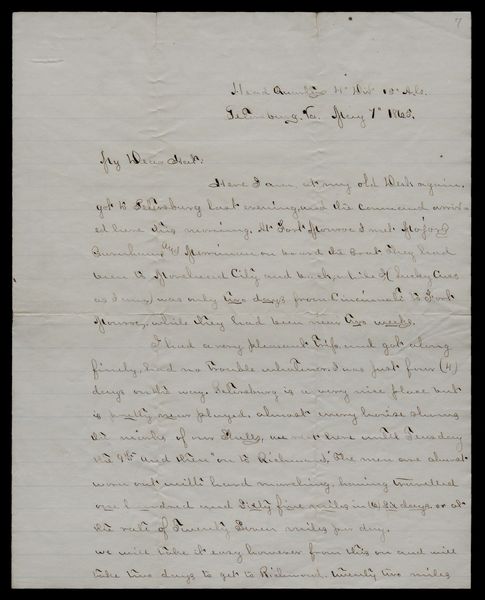 A high-resolution version of this object is available for registered users. LOG IN
Gilder Lehrman Collection #: GLC04498.07 Author/Creator: Stephens, Asbury L. (b. 1843) Place Written: Petersburg, Virginia Type: Autograph letter signed Date: 7 May 1865 Pagination: 2 p. ; 24.5 x 19.5 cm.
Summary of Content: Recounts meeting "Majors Burnham and Merriman on board the boat" at Fort Monroe. Describes war torn Petersburg, noting that "almost every house shows the marks of our Shells." Explains that the troops were weary from travelling 165 miles in six days, so they would take it slow on their way to Richmond. In reference to General Sherman, he boasts that "if 'old crazy Bill and his Bummers' had been here Petersburg would have been taken long ago." Comments on the troops' excitement about the upcoming muster and their support of Sherman. Indicates he will write again from Richmond. I note on the side states that he was sending a flower (not included) he picked where the Union "undermined the Rebel fort and blew it up," referencing the July 1864 Battle of the Crater.
Background Information: Asbury L. Stevens (b. 1843) enlisted in Company E, of the 81st Ohio Infantry Regiment on 2 August 1862, was promoted to Full Principal Musician on 29 August 1863, and mustered out on 26 May 1865. He ...lived at least until 1890, at which time he was mentioned on the Veterans Schedule. See More
Full Transcript: HeadQuarters, 4" Division, 15th Ala
Petersburg, Va. May 7 1865.

My Dear Hart:
Here I am at my old Desk again. Got to Petersburg last evening and the command arrived here this morning. ...At Fort Monroe I met Major Burnham and Merriman on board the boat. They had been to Morehead City and back, while I, (Lucky Cuss as I was) was only two days from Cincinnati to Fort Monroe, while they had been near two weeks.
I had a very pleasant trip, and got along finely, had no trouble whatever. I was just four (4) days on the way. Petersburg is a very nice place but is pretty near played, almost every house shows the marks or our shells, we rest here until Tuesday the 9th and then "on to Richmond." The men are almost worn out with hard marching, having traveled one hundred and sixty-five miles in (6) six days or at the rate of twenty-seven miles per day.
We will take it easy however from this on and will take two days to get to Richmond, twenty-two miles from here. The fortifications are not what I expected to see, and I know if
"old Crazy Bill and his Bummer's" had been here (Sherman and his men). Petersburg would have been taken long ago. That's a sign the Elephant now walks round, etc.
The Boys are considerably excited about their muster out and talk of nothing else. They say they will clean out enemy Printing Office in the north that said anything against Sherman. The Eaton Rats have said the same about the Register (local newspaper), so look out when they get home (if they like Register don't retract what they said) for some fun.
Tell Add that Gauthier was relived from duty here and sent to his Regiment a short time after I left, Goldsboro. It's getting late, I am pretty near played, and I guess I had better wind up for tonight.
I shall expect to hear from you very soon and will write to you again in a few days from "Ye City of Richmond on the Jeems."
Give my love to kil and Add, and believe me as ever yours till I send in my checks.
Ashbury

Direct
A.L.S. Hd. Qtrs.
4th Division, 15th A. C.
[written on side of page: I send you a flower I picked up today near where Grant undermined the Rebel fort and blew it up].
See More
People: Stephens, Asbury L., b. 1843

Historical Era: Civil War and Reconstruction, 1861-1877
Subjects: Battle of PetersburgCivil WarMilitary HistoryUnion ForcesSherman's March to the SeaConfederate States of AmericaUnion Soldier's LetterSoldier's LetterUnion GeneralTravelWartime Pillaging and DestructionBattle
Sub Era: The American Civil War