Heath, William (1737-1814) to John Burgoyne
High-resolution images are available to schools and libraries via subscription to American History, 1493-1943. Check to see if your school or library already has a subscription. Or click here for more information. You may also order a pdf of the image from us here.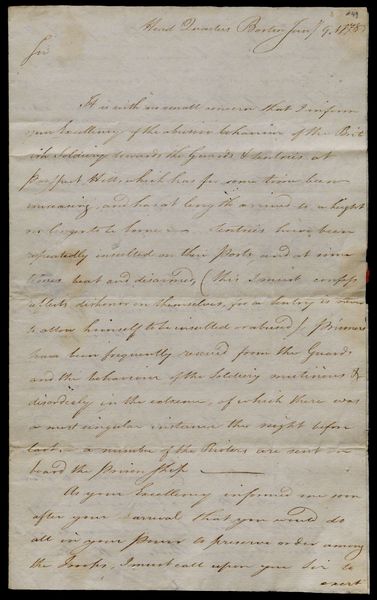 A high-resolution version of this object is available for registered users. LOG IN
Gilder Lehrman Collection #: GLC04764.49 Author/Creator: Heath, William (1737-1814) Place Written: Boston, Massachusetts Type: Autograph letter signed Date: 9 January 1778 Pagination: 3 p. : address : docket ; 31 x 19 cm.
Summary of Content: Written by General Heath as commander of the district where the captured British Convention Army is situated to General Burgoyne, commander of the Convention Army. Complains that British troops are guilty of abusive behavior toward the sentries and guards at Prospect Hill. Says they are repeatedly insulted and at times beat and disarmed. Claims soldiers are "disorderly in the extreme" and that there was singular incident last night, which has forced him to send a number of rioters to a prison ship. Says Burgoyne promised to uphold order among his troops when they arrived, and he wants him to follow up on that promise. Requests him to inquire into the "scandalous practice" of forged passes being used. Says the night before last a sentry was knocked down and his firelock stolen. Expects Burgoyne to look into the matter and have the firelock returned immediately. References Burgoyne's letter of 8 January 1778. Says he has repeatedly asked the commissary to state his accounts. The commissary is trying to complete them, but has been delayed on account of some purchase of cattle, which are at some distance. As soon as he complies, he can complete their adjustment. Marked "No. 40" near address. Red wax seal is partially preserved.
Background Information:
People: Kingston, Robert M

Historical Era: American Revolution, 1763-1783
Subjects: Revolutionary WarRevolutionary War GeneralMilitary HistoryBattleBattle of SaratogaConvention ArmyPrisoner of WarMobs and RiotsPrison CampForgery and FraudWeaponryFinanceMilitary Provisions
Sub Era: The War for Independence