Unknown Burgoyne's Lamentation, At his surrender to the American army, under General Gates.
High-resolution images are available to schools and libraries via subscription to American History, 1493-1943. Check to see if your school or library already has a subscription. Or click here for more information. You may also order a pdf of the image from us here.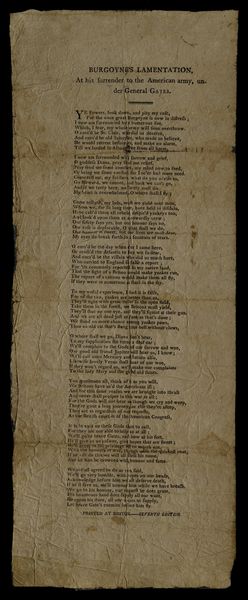 A high-resolution version of this object is available for registered users. LOG IN
Gilder Lehrman Collection #: GLC04764.83 Author/Creator: Unknown Place Written: Boston, Massachusetts Type: Broadside Date: circa October 1777 Pagination: 1 p. ; 47.7 x 18.8 cm.
Summary of Content: Nine stanza poem printed in Boston. Each stanza has eight lines and follows an "aabbccdd" pattern of rhyme. This broadside is the seventh edition. Date is estimated as around the end of the Battle of Saratoga in October 1777, but it could be later than that given this is the seventh edition. Told from the point of view of British General John Burgoyne while he is surrounded by American forces. Burgoyne sends his lamentations to the Greek goddess Diana in the poem. First stanza mentions that earlier American generals made Burgoyne overconfident of an easy victory. Poem goes into Burgoyne's arrogance of British victory over the "yankes." Admits that "You gentleman all, think of it as you will, / We Britons have us'd the Americans ill; / And for this reason we are brought into thrall / And never shall prosper in this war at all;" Ends with the statement that the ancient gods cannot help him and that he will have to beg for mercy from General Gates. Paper was folded at one time and creases and wrinkles can still be seen. A few slight discolorations as well.
Background Information:
People: Kingston, Robert M

Historical Era: American Revolution, 1763-1783
Subjects: ReligionRevolutionary WarRevolutionary War GeneralMilitary HistoryBattleBattle of SaratogaConvention ArmyPrisoner of WarPoetryMusicClassical World and Ancient CivilizationGlobal History and CivicsForeign Affairs
Sub Era: The War for Independence