Dawe, Philip (ca. 1750-1785) The Bostonian's Paying the Excise-man, or Tarring & Feathering
High-resolution images are available to schools and libraries via subscription to American History, 1493-1943. Check to see if your school or library already has a subscription. Or click here for more information. You may also request a pdf of the image from us here.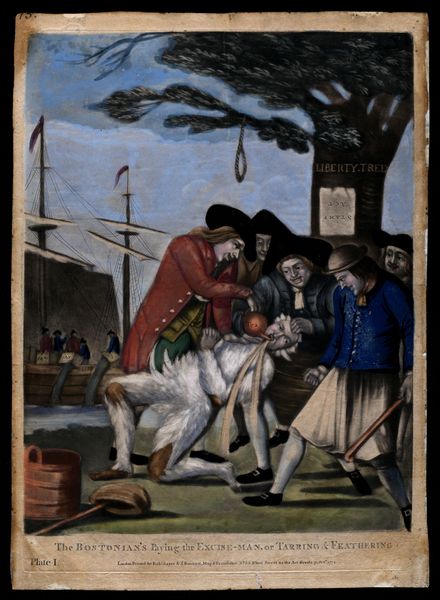 Gilder Lehrman Collection #: GLC04961.01 Author/Creator: Dawe, Philip (ca. 1750-1785) Place Written: London, England Type: Print Date: 31 October 1774 Pagination: 1 engraving ; 37.8 x 27 cm.
A high-resolution version of this object is available for registered users. LOG IN or SUBSCRIBE
Summary of Content: Engraving attributed to Philip Dawe, with hand-coloring. Shows the Boston Tea Party in the background, a "Liberty Tree" with a paper "Stamp Act" affixed upside-down, with five unsavory Bostonians forcibly pouring a pot of tea into the mouth of a tarred and feathered tea excise collector. Printed for Robert Sayer and J. Bennett, October 24, 1774. Dawe was a British mezzotint engraver.
Background Information:
People: Dawe, Philip, ca. 1750-1785
Sayer, Robert, 1725-1794
Robert Sayer and John Bennett (Firm)

Historical Era: American Revolution, 1763-1783
Subjects: PropagandaPoliticsBoston Tea PartyStamp ActRevolutionary WarTaxes or TaxationMobs and RiotsGovernment and CivicsLiberty
Sub Era: Road to Revolution