Sherman, Roger (1721-1793) to Samuel Huntington
High-resolution images are available to schools and libraries via subscription to American History, 1493-1943. Check to see if your school or library already has a subscription. Or click here for more information. You may also order a pdf of the image from us here.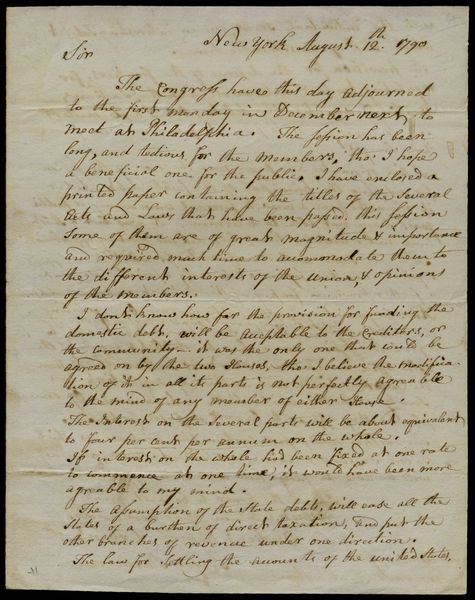 A high-resolution version of this object is available for registered users. LOG IN
Gilder Lehrman Collection #: GLC05282 Author/Creator: Sherman, Roger (1721-1793) Place Written: New York, New York Type: Autograph letter signed Date: 12 August 1790 Pagination: 2 p. ; 25.2 x 19.7 cm.
Reports to the Governor of Connecticut about the actions of Congress in the most recent session. Encloses notes on the acts and laws passed (not present). Informs him of the provision for funding domestic debt and states that though both Houses agreed, it was not the favored decision of either. Remarks upon state debt, "The assumption of the State debts, will ease all the States of a burthen of direct taxation, and put the other branches of revenue under one direction." He also mentions the bills for defending the frontiers, regulating the Post Office, and ongoing negotiations with "about 30 Indian Chiefs from the Creek Tribes, now in this City, negociating a Treaty with the United States, which is nearly compleated, they appear to be well disposed for peace."
Sherman was a member of the Continental Congress from Connecticut 1774-1781, and 1784; a signer of the Declaration of Independence; and a member of the United States Senate. Huntington was Governor of Connecticut 1786-1796.
Signer of the U.S. Constitution.
New York August 12th 1790
Sir
The Congress have this day adjourned to the first Monday in December next to meet at Philadelphia. The session has been long, and tedious for the members, tho' I hope a beneficial one for the public. I have enclosed a printed paper containing the titles of the several Acts and Laws that have been passed. This session some of them are of great magnitude & importance and required much time to accommodate them to the different interests of the Union, & opinions of the members.
I dont know how far the provision for funding the domestic debt, will be acceptable to the creditors, or the community. It was the only one that could be agreed on by the two Houses, tho' I believe the modification of it in all its parts is not perfectly agreeable to the mind of any member of either House.
The Interest on the several parts will be about equivalent to four per cent per annum on the whole.
If Interest on the whole had been fixed at one rate to commence at one time, it would have been more agreable to my mind.
The assumption of the State debts, will ease all the States of a burthen of direct taxation, and put the other branches of revenue under one direction.
The law for settling the accounts of the United States, [2] with the individual States, was an interesting subject which took up considerable time.
The provision for the defense of the frontiers, for regulating trade & intercourse with the Indians occasioned considerable debate; but I hope matters are so arranged as to prevent future troubles from those Savages.
A bill originated and passed near the close of the session for reducing the principal of the public debt, whether it originated from a view to personal conveniency or public good, I am not able to determine, it was but a short time under consideration, but did not meet my approbation. There are some matters unprovided for which it was supposed required another session at so early a period. To make a further provision for paying the interest on the State debts. And, for providing for the public defense by regulating the Militia, [inserted: Establishing a Land Office & other matters.] And the two Houses have not been able to agree this Session on a Law to establish & regulate the Post Office. There are about 30 Indian Chiefs from the Creek tribes, now in this City, negociating a Treaty with the United States, which is nearly compleated, they appear to be well disposed for peace.
The enclosed newspapers contain the evidence on which Baron Steuben's claim was founded. Your Excellency will be able to judge how well it is supported.
I have the honor to be with great
respect & esteem Your Excellency's
Obedient humble servant
Roger Sherman
His Excellency
Governor Huntington/