Holabird, William S. (1794-1855) to Henry D. Gilpin
High-resolution images are available to schools and libraries via subscription to American History, 1493-1943. Check to see if your school or library already has a subscription. Or click here for more information. You may also order a pdf of the image from us here.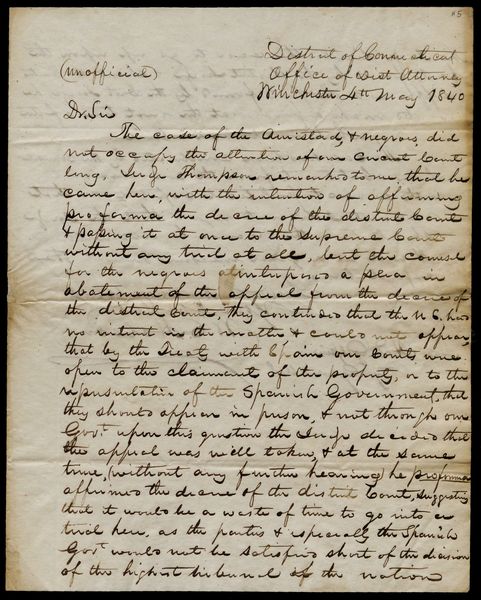 A high-resolution version of this object is available for registered users. LOG IN
Gilder Lehrman Collection #: GLC05636.05 Author/Creator: Holabird, William S. (1794-1855) Place Written: Winchester, Connecticut Type: Autograph letter signed Date: 4 May 1840 Pagination: 2 p. : address ; 25.3 x 20.2 cm.
Summary of Content: Holabird, United States District Attorney of Connecticut, writes to Gilpin, Attorney General. Relates that the Amistad case did not spend much time at the circuit court level, because "the counsel for the negroes [interposed?] a plea in abatement of the appeal from the decree of the district court, they contended that the U. S. had no interest in the matter, & could not appeal, that by the Treaty with Spain our courts were open to the claimants of the property, or to the representatives of the Spanish Government, that they should appear in person, & not through our Govt. upon this question the judge decided that the appeal was well taken, & at the same time, (without any further hearing) he pro forma affirmed the decree of the district Court, suggesting that it would be a waste of time to go into a trial here, as the parties & especially the Spanish Govt would not be satisfied short of the decision of the highest tribunal... the case has been conducted by the course of the abolitionists from the commencement with a view to political capital, on that account I did not regret that the judge should take the course he did..."
Background Information: Holabird served as U.S. attorney for the District of Connecticut 1834-1841. Judges Smith Thompson and Andrew Thompson Judson presided over several levels of court proceedings of the Amistad trial.
People: Holabird, William S., 1794-1855
Gilpin, Henry Dilworth, 1801-1860
Thompson, Smith, 1768-1843

Historical Era: National Expansion and Reform, 1815-1860
Subjects: AmistadAfrican American HistorySlaverySlave TradeSlave RebellionAfricaMutinyMaritimeLawPresidentGlobal History and CivicsForeign AffairsPrisonerJudiciaryPoliticsAbolitionTreaty
Sub Era: