Holabird, William S. (1794-1855) [Antonio G. Vega's deposition given to United States District Attorney William S. Holabird]
High-resolution images are available to schools and libraries via subscription to American History, 1493-1943. Check to see if your school or library already has a subscription. Or click here for more information. You may also order a pdf of the image from us here.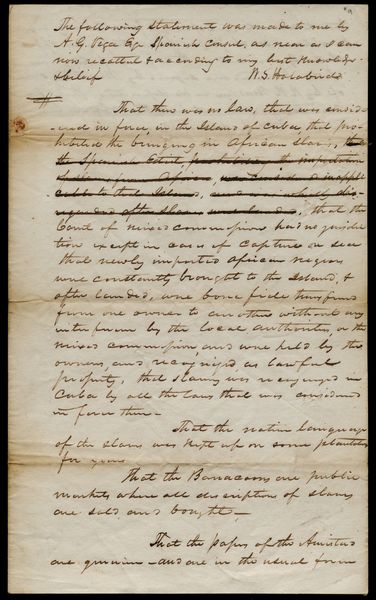 A high-resolution version of this object is available for registered users. LOG IN
Gilder Lehrman Collection #: GLC05636.09 Author/Creator: Holabird, William S. (1794-1855) Place Written: s.l. Type: Document signed Date: 10 January 1840 Pagination: 2 p. : docket ; 32.2 x 20 cm.
Summary of Content: Signed deposition read before the court stating "that the court of mixed commissions had no jurisdiction except in cases of capture... that newly imported African Negroes were constantly brought to the Island, & after landed, were bona fide transferred from one owner to an other without any interference by the local authority, or the mixed commission, and were held by the owners, and recognized, as lawful property, that slavery was recognized in Cuba by all the Laws that was considered in force there... " Appears to be a complete version of GLC 5636.07 and an edited version of GLC 5636.08. Possibly created in Connecticut, where the District Court heard the case.
Background Information: In January 1840 the Amistad case was presented before Judge Andrew T. Judson in the Connecticut District Court.
People: Holabird, William S., 1794-1855
Vega, Antonio G., fl. 1839-1841

Historical Era: National Expansion and Reform, 1815-1860
Subjects: AmistadAfrican American HistorySlaverySlave TradeSlave RebellionAfricaMutinyMaritimeLawPresidentGlobal History and CivicsForeign AffairsPrisonerJudiciaryCaribbeanLatin and South America
Sub Era: