Holabird, William S. (1794-1855) [Notes of Holabird, United States District Attorney for Connecticut]
High-resolution images are available to schools and libraries via subscription to American History, 1493-1943. Check to see if your school or library already has a subscription. Or click here for more information. You may also order a pdf of the image from us here.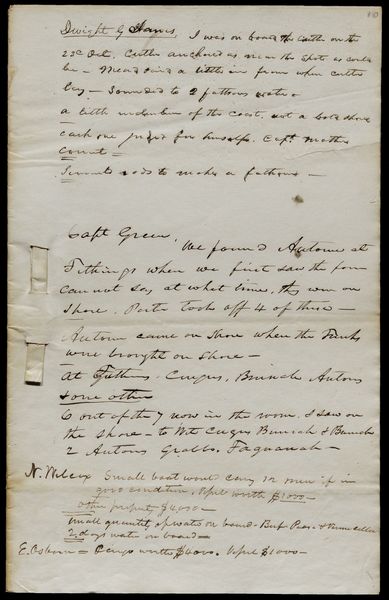 A high-resolution version of this object is available for registered users. LOG IN
Gilder Lehrman Collection #: GLC05636.10 Author/Creator: Holabird, William S. (1794-1855) Place Written: s.l. Type: Manuscript document Date: January 1840 Pagination: 1 p. ; 32.4 x 20.6 cm.
Summary of Content: Contains testimony of Dwight G. James (an abolitionist), Captain Green (who came into contact with Amistad Africans on shore, prior to their capture), N. Wilcox (Norris Wilcox, United States Marshal for the District of Connecticut), and E. Osborne (who notes the value of the cargo). Wilcox notes the cargo on board the Amistad, and Green identifies persons in the courtroom who he had seen on shore. Possibly created in Connecticut, where the District Court heard the case.
Background Information: In January 1840 the Amistad case was presented before Judge Andrew T. Judson in the Connecticut District Court.
People: Holabird, William S., 1794-1855

Historical Era: National Expansion and Reform, 1815-1860
Subjects: AmistadAfrican American HistorySlaverySlave TradeSlave RebellionAfricaMutinyMaritimeLawPresidentGlobal History and CivicsForeign AffairsPrisonerJudiciaryAbolition
Sub Era: