Forsyth, John (1780-1841) to William S. Holabird
High-resolution images are available to schools and libraries via subscription to American History, 1493-1943. Check to see if your school or library already has a subscription. Or click here for more information. You may also order a pdf of the image from us here.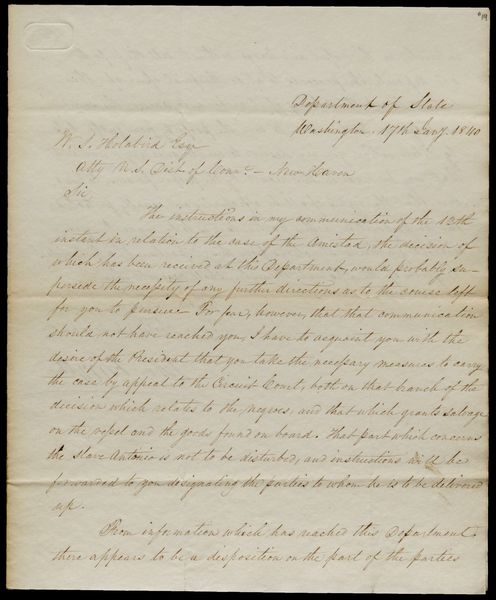 A high-resolution version of this object is available for registered users. LOG IN
Gilder Lehrman Collection #: GLC05636.19 Author/Creator: Forsyth, John (1780-1841) Place Written: Washington, D.C. Type: Letter signed Date: 17 January 1840 Pagination: 2 p. ; 25 x 20.5 cm.
Summary of Content: Fearing that his letter of 12 January had not reached Holabird, Forsyth reiterates President Van Buren's instructions regarding the Amistad. Writes "... I have to acquaint you with the desire of the President that you take the necessary measures to carry the case by appeal to the Circuit Court, both on that branch of the decision which relates to the negroes, and that which grants salvage on the vessel and the goods found on board. That part which concerns the slave Antonio is not to be disturbed, and instructions will be forwarded to you designating the parties to whom he is to be delivered up..." Discusses the division and possible sale of the vessel and cargo.
Background Information: Forsyth was Secretary of State 1834-1841. Holabird was District Attorney for the State of Connecticut during the Amistad trial.
People: Forsyth, John, 1780-1841
Holabird, William S., 1794-1855
Van Buren, Martin, 1782-1862

Historical Era: National Expansion and Reform, 1815-1860
Subjects: AmistadAfrican American HistorySlaverySlave TradeSlave RebellionAfricaMutinyMaritimeLawPresidentGlobal History and CivicsForeign AffairsPrisonerJudiciary
Sub Era: