Forsyth, John (1780-1841) to William S. Holabird
High-resolution images are available to schools and libraries via subscription to American History, 1493-1943. Check to see if your school or library already has a subscription. Or click here for more information. You may also order a pdf of the image from us here.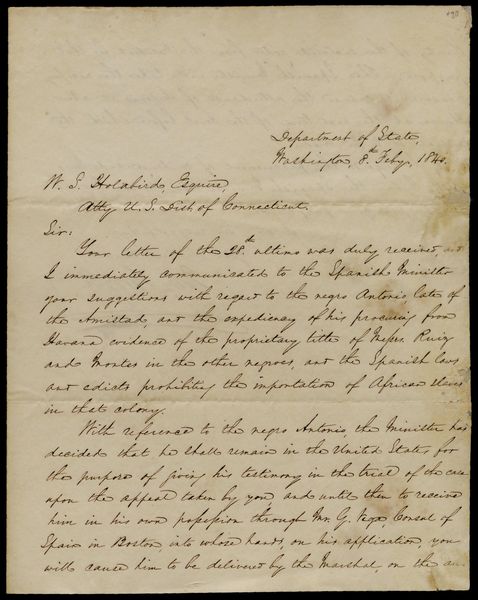 A high-resolution version of this object is available for registered users. LOG IN
Gilder Lehrman Collection #: GLC05636.20 Author/Creator: Forsyth, John (1780-1841) Place Written: Washington, D.C. Type: Letter signed Date: 8 February 1840 Pagination: 2 p. ; 25.3 x 20 cm.
Summary of Content: Writes regarding arrangements made by the Spanish Government for Antonio, the slave cabin-boy on board the Amistad, to testify at an upcoming trial in New Haven, Connecticut. Discusses the Minister's obtainment of Jose Ruiz's and Pedro Montes's proprietary title in the other Africans aboard the ship (the titles are to be procured from Cuba). Reports that he informed the Spanish Minister of Holabird's suggestion regarding obtainment of the Spanish laws and edicts prohibiting the importation of African slaves in Cuba. Relates that a Spanish Consul in Boston, Antonio G. Vega, and the Spanish Minister will ensure the slave Antonio's attendance at trial.
Background Information: Forsyth was Secretary of State 1834-1841. Holabird was District Attorney for the State of Connecticut during the Amistad trial. Montes and Ruiz were held captive by the Amistad mutineers.
People: Forsyth, John, 1780-1841
Holabird, William S., 1794-1855

Historical Era: National Expansion and Reform, 1815-1860
Subjects: AmistadAfrican American HistorySlaverySlave TradeSlave RebellionAfricaMutinyMaritimeLawPresidentGlobal History and CivicsForeign AffairsPrisonerJudiciaryLatin and South AmericaCaribbean
Sub Era: