Unknown [Twenty Star American "Abolitionist Flag"]
High-resolution images are available to schools and libraries via subscription to American History, 1493-1943. Check to see if your school or library already has a subscription. Or click here for more information. You may also order a pdf of the image from us here.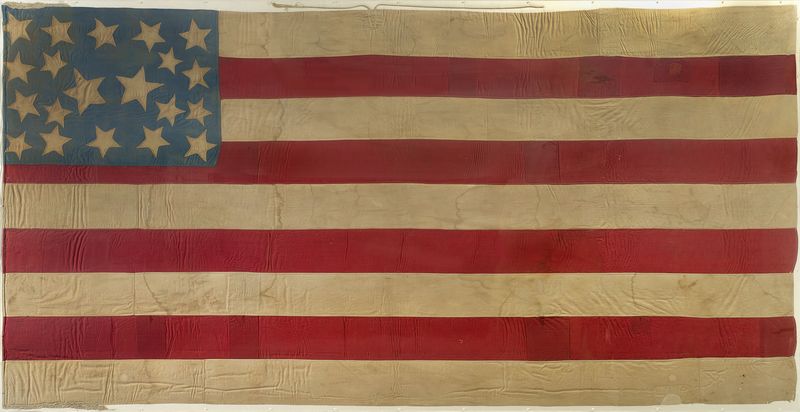 A high-resolution version of this object is available for registered users. LOG IN
Gilder Lehrman Collection #: GLC05762 Author/Creator: Unknown Place Written: s.l. Type: Object Date: circa 1859 Pagination: 1 textile flag ; 158 x 311 cm.
Summary of Content: Large American cotton flag with only 20 stars. Fragile. The flag consists of 9 alternating red or white cloth strips sewn together with 20 somewhat irregular stars. The blue field is mottled and the flag has staining. The flag is identified as an "Abolitionist Flag" because it drops the slave states from the star field. (Measurements are approximate.) Discovered in Andover, Ohio, and may have been made there. Thought to show support for abolitionists like Brown.
Background Information: John Brown's son lived in Andover, Ohio.

In 1818, President James Monroe signed legislation establishing that the national flag consist of 13 alternating red and white stripes to represent the original thirteen ...colonies. While the stripes would remain unchanged, additional stars would be added as new states entered the Union.
Prior to the Civil War, abolitionists made their own flags, which represented the Union as they thought it should be. Although there were 33 states in the Union in 1859-1860, this flag represents the only 20 free states (including the border states of Maryland and Delaware) and purposefully excluded the 13 southern slaveholding states. The stripes for Virginia, South Carolina, North Carolina and Georgia were also omitted. Abolitionist flags may be perceived as physical representation of abolitionist belief and a desire for the expulsion of the slave states from the Union. The flag measures an impressive 10 feet long by 5 feet tall. Other abolitionist flags exist, however the flag featured here has a unique place in American history.
Discovered at an estate sale in Cherry Valley, Ohio in 1996, this flag came from a home that had been used as a Tavern & Inn prior to the Civil War. John Brown's sons and most fervent supporters lived in this region. In 1859, Brown's men gathered guns and supplies in Cherry Valley before leaving for the raid on Harpers Ferry in Virginia. When the raid failed, some of Brown's men (including John Jr. and Owen Brown) escaped capture and sought refuge in Cherry Valley. Area residents sheltered the survivors and forcefully turned away the Federal Marshals who came to arrest them.


Note:
In February 1859, Oregon became the 33rd state to enter the union. Kansas joined the Union in in January, 1861. This allows us to date the flag to 1859-1860.
See More
People: Brown, John, 1800-1859

Historical Era: National Expansion and Reform, 1815-1860
Subjects: John BrownAbolitionAmerican FlagSlaveryAfrican American HistoryReform Movement
Sub Era: Age of Jackson