Brunt, William (fl. 1863-1865) to Robert Weir
High-resolution images are available to schools and libraries via subscription to American History, 1493-1943. Check to see if your school or library already has a subscription. Or click here for more information. You may also order a pdf of the image from us here.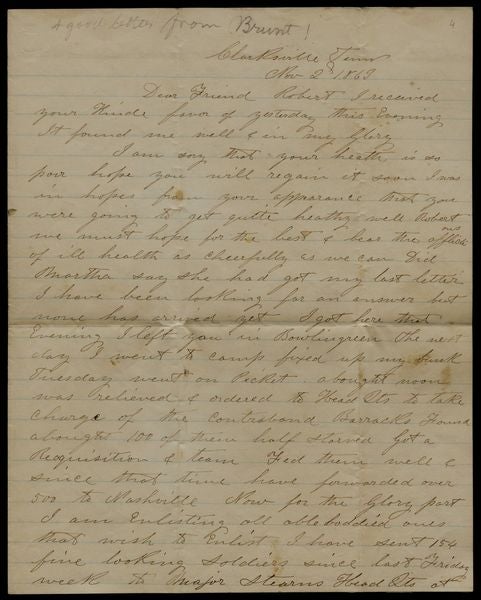 A high-resolution version of this object is available for registered users. LOG IN
Gilder Lehrman Collection #: GLC07006.04 Author/Creator: Brunt, William (fl. 1863-1865) Place Written: Clarkesville, Tennessee Type: Autograph letter signed Date: 2 November 1863 Pagination: 4 p. ; 25 x 20 cm.
Summary of Content: Gives details of his movements over the past few days. Brunt has been ordered to "take charge of the Contraband Barracks," where he found and fed freed slaves. He describes the process of enlisting them as soldiers, "how theire eys brighten when they make theire mark to their signatures...No masters whip will ever legally gash theire backs again." Describes his joy at recruiting former slaves as "the privelige of taking one part of the south to whip the rest with yes to take the cause of the Rebellion to crush it with." Mentions the attempts of slave owners to buy back freed black soldiers and how Brunt repelled their attempts. Gives an account of an argument with another Kentuckian, a slave owner, about the war and the freeing of slaves.
Background Information: William Brunt was, at the start of the correspondence, a soldier in the 83rd Regiment, Ft. Donelson, Tennessee. He was later made Captain of Company Division 16th Colored Infantry. Brunt's ...wife, Olive, and his two children virtually accompanied him to war, living in the nearby camps while Brunt was on the battlefield. William and Olive had lived in Kentucky prior to the war, but were disliked for their strong support of Union politics. By 1864, Olive was helping to run a contraband camp with Brunt, but by 1865 the two had divorced after Olive was unfaithful to William. Brunt retained custody of their two children and, despite the emotional strain which came from marriage of one and the death of the other, remained devoted as a soldier and anti-slavery advocate.See More
Full Transcript: [excerpt] [draft]
Now for the Glory part I am Enlisting all able boddied ones that wish to Enlist I have sent 154 fine looking Soldiers since last Friday week to Major ...Stearns Head Qts at [2] Nashville I have Enlisted 20 to day & still they come Oh how theire eys brighten when they make theire mark to their signatures when I tell them that act makes them free as I am No masters whip will ever legally gash theire backs again their masters henceforth have no more control over them than they have over me The proportion since I commenced Enlisting has been 64 Rail Road men to 178 soldiers & fully ¼ of those R Road men want to Enlist but are to young to old or unsound
From this you can judge of the force that can be raised provided we can get at them How my heart leaps for joy at this privelige the privelige of taking one part of the south to whip the rest with yes to take the cause of the Rebellion to crush it with Their masters come here to take them back Our Col tells them Gentlemen go to the [Quts] iff they are willing to return you can take them I have no right to send them out of my lines nor permit them to be taken out against their will Very few return probably abought one out of 25…[3] I will give you a few specimens to day one man came to me to acertain weather his slaves had Enlisted or gone on the RR They had Enlisted. He remarked "It [struck: was] [inserted: is] hard for a loyal Kentuckian to have all his slaves taken away," Sir you have as many left as I have & more Kentucky assumed a neutral position when the Federal Government asked you for help why ask a favor of a Government you refused to help when it needed your [illegible] assistance "I would be perfectly willing to give one as a substitute for my self but that dont release me I am still liable to be drafted" that is perfectly right sir you know a negroe is not Equal to a white man you certainly don't want to ofset a negroe against me do you another thing I have left my Family home & business & am dailey risking my life to help rid you of youre persecuting Enemies yes to protect you at your own fire side & now you refuse to let one part of your property come & help us to protect you & your family & the rest of your property you want to keep your negroes at home to make money with & want us to fight your battles for you while you roll in luxuries & accumulate [struck: well] [inserted: wealth]…See More
People: Brunt, William, fl. 1863-1865
Weir, Robert, fl. 1863

Historical Era: Civil War and Reconstruction, 1861-1877
Subjects: African American TroopsAfrican American HistoryCivil WarMilitary HistorySoldier's LetterUnion Soldier's LetterUnion ForcesContrabandsFreemenSlaveryRecruitmentSlave SaleEmancipation
Sub Era: The American Civil War