Cameron, Simon (1799-1889) to Edwin M. Stanton
High-resolution images are available to schools and libraries via subscription to American History, 1493-1943. Check to see if your school or library already has a subscription. Or click here for more information. You may also order a pdf of the image from us here.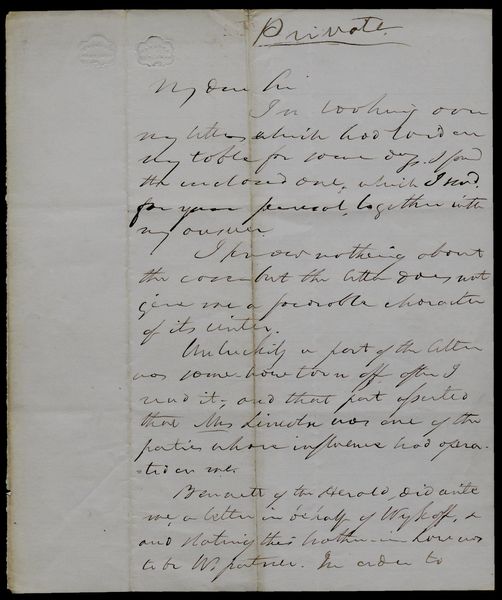 A high-resolution version of this object is available for registered users. LOG IN
Gilder Lehrman Collection #: GLC07091 Author/Creator: Cameron, Simon (1799-1889) Place Written: s.l. Type: Autograph letter signed Date: 10 March 1862 Pagination: 2 p. ; 20.2 x 17 cm.
Summary of Content: Discussing Mary Todd Lincoln's influence in military matters. Says that others have "asserted that Mrs Lincoln was one of the parties whose influence had operated on me." Also praises some of Stanton's early changes in dispositions of troops. Marked "Private."
Background Information: Simon Cameron was the Secretary of War under President Lincoln until 11 January 1862, when he resigned over a disagreement with the President.
Full Transcript: Private

My dear Sir
In looking over my letters which had laid on my table for some days I found the enclosed one, which I send for your perusal, together ...with my answer.
I know nothing about the case but the letter does not give me a favorable character of its writer.
Unluckily a part of the letter was some-how torn off after I sent it; and that part asserted that Mrs. Lincoln was one of the parties whose influence had operated on me.
Bennett of the Herald, did write me a letter in behalf of Wykoff, & and Noting this brother-in-law was to be W. partner. In order to [2] gratify Bennett, I did some months ago, request Scott to give an order to Wykoff and it may be that this man Schenck is somehow connected with it.
I am right glad to see you have divided 'the great Army of the Potomac," and I am particular pleased with your selections as Generals to command the different corps. I shall now look for some substantial result. I have great hopes that McDowell will now be redeemed from the misfortune of 'Bull Run.'
Your friend
Simon Cameron
10 March 1862
Hon E.M. Stanton
See More
People: Cameron, Simon, 1799-1889
Stanton, Edwin McMasters, 1814-1869

Historical Era: Civil War and Reconstruction, 1861-1877
Subjects: Civil WarMilitary HistoryUnion ForcesPresidentLincoln's CabinetFirst LadyWomen's History
Sub Era: The American Civil War