Clay, Henry (1777-1852) to Jacob Burdett
High-resolution images are available to schools and libraries via subscription to American History, 1493-1943. Check to see if your school or library already has a subscription. Or click here for more information. You may also order a pdf of the image from us here.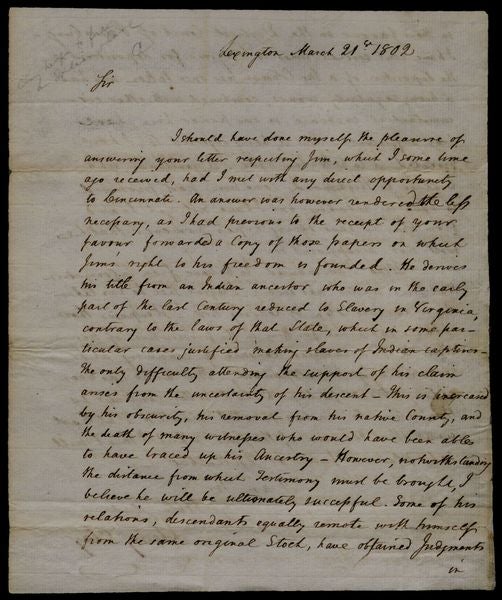 A high-resolution version of this object is available for registered users. LOG IN
Gilder Lehrman Collection #: GLC07098 Author/Creator: Clay, Henry (1777-1852) Place Written: Lexington, Kentucky Type: Autograph letter signed Date: 21 March 1802 Pagination: 2 p. : address : docket ; 24.3 x 20.1 cm.
Summary of Content: Written by Clay as a lawyer in Lexington, Kentucky, before he began his political career to Burdett as an attorney in Cincinnati, Ohio. References a previous letter by Burdett respecting Jim, a runaway slave whose status was in question. Says an answer was not necessary because he had already forwarded "a Copy of those papers on which Jim's right to his freedom is founded. He derives his title from an Indian ancestor who was in the early part of the last Century reduced to Slavery in Virginia, contrary to the laws of that State." The only difficulty of his claim arises from the uncertainty of his descent. The problem was increased by "his obscurity, his removal from his native County, and the death of many witnesses who would have been able to have traced up his Ancestry." Says he will ultimately prove his lineage though because some of his relations, equally remote from their ancestors, have obtained judgments in their favor in the District Court of Petersburg, Virginia. Requested the deposition from a Mr. Coleman, who provided evidence for Jim, to be retaken. Says he has information that Jim's master was "severe", but that he regrets that Jim took the "unadvised" step to leave him. Says it puts him in awkward position as his lawyer, but that it is best for Jim to stay away from his old master at least until a decision on his case is made in June or September.
Background Information:
Full Transcript: Lexington March 21st 1802
Sir
I should have done myself the pleasure of answering your letter respecting Jim, which I some time ago received, had I met with any direct opportunity ...to Cincinnati. An answer was however rendered the less necessary, as I had previous to the receipt of your favour forwarded a Copy of those papers on which Jim's right to his freedom is founded. He derives his titles from an Indian ancestor who was in the early part of the Last Century reduced to Slavery in Virginia, contrary to the laws of that State, which in some particular cases justified making slaves of Indian captives-- The only difficulty attending the support of his claim arises from the uncertainty of his descent-- This is increased by his obscurity, his removal from his native Country, and the death of many witnesses who would have been able to have traced up his Ancestry-- However, notwithstanding the distance from which Testimony must be brought, I believe he will be ultimately successful. Some of his relations, descendants equally remote with himself from the same original Stock, have obtained Judgments [2] in their favour in the District Court of Petersburg-- I have sent several times to Virginia for depositions-- The deposition of a Mr. Coleman was once taken and had it been regularly would, combined with other circumstantial evidence in our power here, have been sufficient-- But it being objected to, I have directed it to be taken over. A gentleman, who went in to Richmond some time past, promised to have it retaken; but I have not yet heard from him-- I have strong hopes however that he will not disappoint me--
Altho' I am induced to believe from information that Jim's master was severe, I regret that he has taken the unadvised step of leaving him-- It exposes those who are concerned for him in the prosecution of his claim to the unmerited censure of conniving at or recommending his elopement-- But as he has been so long absent perhaps he had better continue so than return to an exasperated master-- at least until the decision of the suit which I think will take place in June or September--
I am Sir
Yr Hble Servt
Henry Clay
[Docket]
See More
People:
Historical Era: The New Nation, 1783-1815
Subjects: American StatesmenLawSlaveryAfrican American HistoryRunaway SlaveFugitive Slave ActAmerican Indian HistoryGenealogy
Sub Era: The Age of Jefferson & Madison